News: A new expansion is coming to Cities: Skylines month along with the news that consoles will begin receiving expansions as well.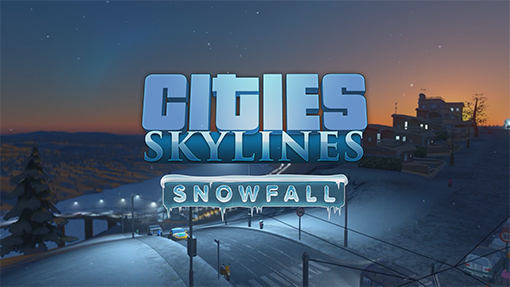 The console versions of Cities: Skylines are going to start receiving the expansion packs that have previously only been available to PC gamers. This will begin on November 14 when Xbox One, PS4 and PC all receive the "Snowfall" expansion, a weather focused expansion pack. With this expansion you will be able to add a flurry of features to your cities, including a new set of special "Winter" maps which challenge mayors to keep the roads clear and the neighborhoods warm when the weather gets rough -- along with streetcars for new public transit options. Snowfall will be the first of several expansions and additions coming to consoles in the near future.

Paradox has also announced that Snowfall will also be included in Cities: Skylines - Season Pass and Cities: Skylines - Premium Edition, two comprehensive packages which will enable mayor-players to collect a complete set of expansions and additions to the award-winning Cities: Skylines experience. Seven items will be included in the Season Pass, while the Premium Edition will also include the base Cities: Skylines game, offering an excellent chance for new players to try the best-selling management title. Players who purchase either bundle will gain immediate access to each piece of DLC as they become available on their respective platforms.

Both the Season Pass and Premium Edition will include:


Snowfall (full expansion)


Natural Disasters (full expansion)


Mass Transit (full expansion)


High Tech Buildings (content creator pack)


Art Deco (content creator pack)


Relaxation Station (radio station DLC)


Rock City Radio (radio station DLC)


In Snowfall, your city can be covered in snow or glisten in the rain with in-game weather - which adds new challenges as well. Add snowplows to clear your streets, and help citizens keep warm in the storm with city-wide heating systems. New public transit options also help residents get across your city, rain or shine.

Snowfall includes:


Now is the Winter of This Content: Rain and fog for existing maps, plus a "Winter" map theme with snow and new challenges - snowplows, road maintenance, and more


The Streetcars You Desire: New public transit options, including street trams and easier management of existing lines


World Warmth, Too: Cold weather increases demands for electricity, unless new heat systems are in place


Snowfall will be available for a suggested retail price of $12.99 on November 14 for the Xbox One, PlayStation 4 and Windows 10. The Season Pass will be available for a suggested retail price of $39.99 and Cities: Skylines - Premium Edition, which includes the original game and all Season Pass content, will be available for a suggested retail price of $69.99. Will you be picking up this new content? Tell us what you think below.