News: Riskers merges a couple of different genres in its attempt to be a bit like old school GTA in a tale of revenge.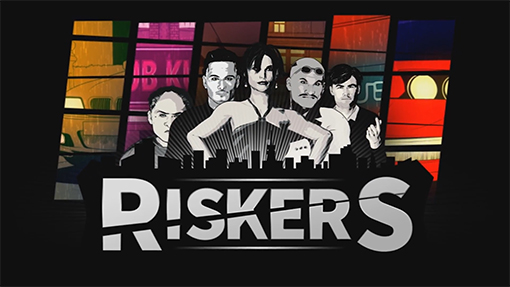 A new top down 2D shooter inspired by GTA is getting ready to hit the Steam marketplace. Riskers is a high octane tale of revenge merging brutal gameplay and reckless driving. You will take on the role of ex-con-turned-lowly-garbageman Rick Paradis. After finding a briefcase filled with money and deciding to keep the cash, Rick must now fight to survive as he is hunted down by thugs out to get what is rightfully theirs. Things quickly take a personal turn as Rick's brother becomes a casualty. He must now make things right – even if it means breaking the law once again.

You can choose from a an arsenal of weapons including shotguns, pistols, automatic rifles, and sniper rifles. When all else fails, you can pick up chairs and throw them at enemies to slow them down a notch. If stealth is the name of the game, it's time to slip into darkness thanks to the game's day and night cycles. You can tackle the main storyline and enjoy comic book-style cutscenes or delve into a variety of side missions. The choice is yours in the open world of Riskers.

Some of the key features for the game include:


Play a unique mix of game genres (top-down action, driving and shooting)


Experience an interactive open world, complete with a day and night cycle


Explore highly-detailed interior levels


Eliminate enemies with a selection of eight different weapons, or resort to chair throwing


Take a break from the main story and complete a variety of side missions


Immerse yourself in the story through comic book-style cutscenes


Search for in-game collectibles


Riskers will be available beginning on Tuesday, October 17, in Steam. During launch week it will be on sale for only $7.49. Beginning on October 24 though it will go up to its normal price of $9.99. Take a look at the trailer below and tell us what you think. Will you be purchasing Riskers next week?