News: You won't have to wait to much longer for Dynasty Warriors 9 but until then you can check out this brand new trailer.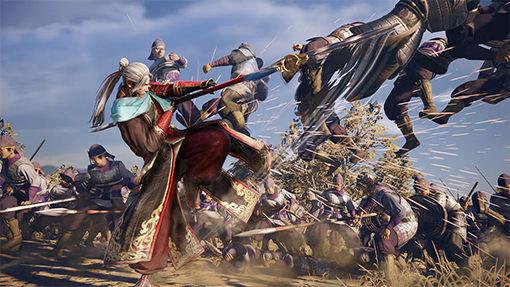 Koei Tecmo America has revealed that Dynasty Warriors 9 will be released in early 2018 on Xbox One, PlayStation 4 and PC. They also released a trailer to coincide with this announcement that touches on the Three Kingdoms narrative and showcasing some of the game's most popular characters traversing new environments, scaling city walls, and charging from rooftops.

In addition to introducing the game's story, characters, and locations, the trailer highlights the brand-new State Combo system. This diverse action system offers players a wide selection of options during attacks. Flow Attacks create move-set combos that differ depending on the enemy's position and seamlessly continue when enemies become prone, are in mid-air, or stunned. Reactive Attacks are extremely versatile and can range from counterattacks, dash attacks, assaults, to guard breaks and finish moves. Trigger Attacks are powerful moves that change an enemy's state. Attacks will change depending on the combination of buttons pressed.

Complementing the trailer is a robust batch of assets including new character designs for returning playable characters, screenshots from focal narrative cut scenes, and information on a new character, Xu Sheng, a cunning and charismatic general of the kingdom of Wu.

Based on real historical events and figures, Dynasty Warriors 9 follows the personal struggles and progression of the player's chosen character through the completion of both key and secondary events which can be reached in a myriad of different ways. The story of the Three Kingdoms era is presented in over ten chapters, each reflecting changes in the balance of power. Each Chapter takes the player a step deeper into the impressive military and political machinations of the era, beginning with the Yellow Turban Rebellion through the ultimate unification of China.

Take a look at the new trailer and tell us what you think. Will you be picking up Dynasty Warriors 9 in early 2018?