Reviews: Destiny 2's core pillars are rock solid and deliver with solo, competitive and co-op gameplay that is rewarding.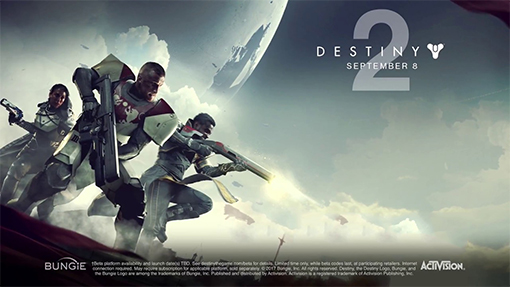 To say that the original Destiny was divisive would be perhaps a bit of an understatement. Despite it's tumultuous development cycle and it's failure to live up to the world building that fans of the Halo series might have expected it still managed to carve out a pretty large and dedicated fan base. By building on the lessons learned over the last 3 years Bungie has managed to deliver a game that has fixed or improved upon nearly every shortcoming of Destiny 1.
Destiny 2 starts off on the right foot by giving you an intimidating antagonist with clear goals that threaten the very existence of Guardians, The Traveler and the remnants of the Last City. While the game doesn't break any new ground in storytelling it certainly lays a solid foundation of the world you're in, what you're fighting against and why. With that said I was a little disappointed that they didn't go a little farther with the concept of Guardians losing their light and it quickly becomes a bit of a hollow theme that's sacrificed in favor of gameplay within context of the story missions. The writing between some of the secondary characters can be a little uneven and the attempts at levity in particular feel contrived more often than not. It seems Bungie leaned a little too far into what worked in The Taken King and the tone is a little worse for wear as a result. Cayde has gone from a rather likable rogue to an apparent fool that bumbles around everything he's involved in. This and few too many wisecracking robots makes it feel it's trying to hard for a tone that it doesn't quite hit. This isn't necessarily all that troubling given that Destiny 2's story, while a vast improvement over the first, remains perhaps the weakest part of the game overall and as such takes a bit of a backseat to the moment to moment gameplay loop that's driving you to the next shiny piece of loot. With that said, there is still a much more satisfying payoff to the story that's being told and doesn't cut you off from it's conclusion by putting it in the raid.
It's hard to over emphasize just how strong the core pillars of Destiny 2 are. Solo, competitive and co-op gameplay challenges facilitated by some of the most satisfying shooting mechanics of any modern game all driven by a loot grind that is constantly teasing a shinier piece of gear with numbers that are just a little bit bigger. That may sound a bit reductive but the fact is that Destiny 2 does a wonderful job of giving a nice variety of activities and ways to get new and more powerful gear. Outside of the story missions there are a bunch of sidequests that all give a glimpse of what your reward will be for completing them. These "adventures" as they're dubbed are not only great stepping stones to help you get to level 20 and unlock your other subclasses but some of them are arguably more interesting than the main story in terms of the writing and the problems you're tasked to solve for various characters you'll meet on the worlds you visit. Between missions you're almost certain to get caught up in some public events along the way and that's because they're not only happening almost constantly in at least one area of any given map but they've also been marked right in the Director for you with countdown timers. This takes out the guess work that could make public events a bit frustrating previously. Next you have "Lost sectors" which are designed with exploration focused solo players in mind. These are generally a short set of encounters tucked away in the various corners of each of the 4 worlds that end with a boss fight and of course a loot chest. These activities join the strikes, patrols and crucible that players of the first game will be familiar with but the best part is how it's all structured into your endgame "grind" after you reach level 20 and beat the campaign. Almost every activity will payoff in not only engrams filled with new loot but location specific "tokens" that can be redeemed with the various faction holders for legendary engrams that scale to your power level. This is only up to a certain point as the most powerful gear will still require time spent in the game's toughest activities such as Nightfall Strikes and the Raid. Everything feeds into a much more simplified set of currencies so you really can continue to level up by doing the stuff you enjoy most.
Solo players will have a lot more to sink their teeth into this time around as you can build yourself up to a raid eligible power level of 260 without so much as joining another player. I actually made a point of testing this and spent probably 30 hours on one character playing entirely solo and got to 270 without feeling like I was just repeating the same stuff over and over. There are still Lost Sectors I haven't completed and missions I've yet to try scattered across the 4 worlds. This is partly due to the fact that there's a fair bit of awesome gear (including exotics) that can be obtained through quests that will occur naturally in the campaign or higher level multi-part missions that are available after the story missions. Weapon quests will sometimes have some simplistic objectives that can toe the line of being tedious but some of that feeling is amplified by the fact that you know each step is getting you closer to some of the game's best guns. There's some interesting stuff done with this that sometimes involves multiple reward weapons that can play off of one another for special abilities, buffs or combo effects if you have them both equipped at the same time.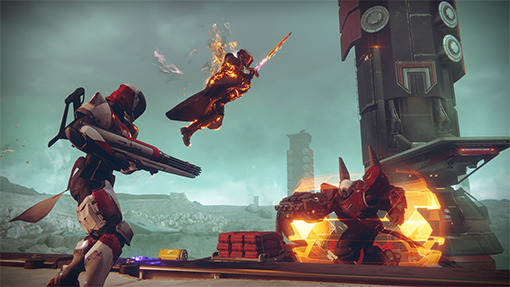 In terms of production value, Destiny 2 is up there with the best and most beautiful games around. Bungie has always had a knack for large, sweeping environments and incredible skyboxes and this game is no exception. Maybe it's the space geek in me but I couldn't help but stare up at Jupiter every so often as it rotates above taking up a huge part of it's sky. It provides a great sense of scale and place any time I stopped to appreciate it. The 30 frame performance stays pretty consistent in my experience and what little slowdown I noticed once or twice seemed to be more to do with network lag than anything else. Aiming down on enemies feels snappy and smooth and there's just the right amount of stickiness to get your sights where you want them to be without any frustration. Animations and performances of Destiny's main characters shine in both the cinematics and quest giving screens. Top to bottom Destiny 2 is simply a beautiful game to look at thanks to its strong use of color and wonderful art direction that makes every environment, character, piece of armor and weapon drip with personality and life.

I can say without hesitation that Destiny 2 is a better game across the board compared to the first. The focus on building a coherent campaign and tightening up the myriad of systems that feed into the core loot loop have gone a long way towards making Destiny 2 feel like it has launched firing on all cylinders and proves once again that real good Destiny can be some of the most addicting and rewarding gameplay to be had anywhere. The jury is still out on the impact of features like Guided Games and matchmaking for Nightfall Strikes as they're still in beta and require "tickets" to participate but if the same focus is applied to making it work as has been put in throughout the rest of the game then it will hopefully serve to help more players experience the most elaborate, challenging and rewarding parts of the game.