News: This past weekend was filled with a bunch of great Call of Duty action but in the end only one team was left standing with the trophy.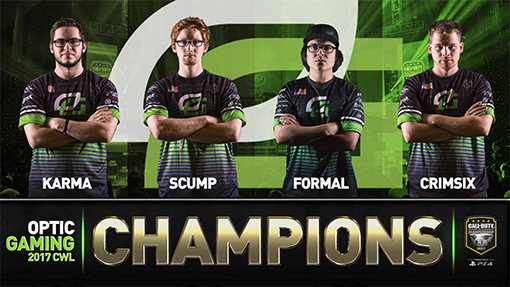 Over the weekend the Call of Duty World League Championship took place in Orlando. OpTic Gaming won this year's crown over Team EnVyUs in a thrilling final competition to determine this year's champion as the best Call of Duty team in the world.

"This does not feel real at all. I feel like a legend with my teammates," CWL Championship 2017 MVP Matthew 'FormaL' Piper said after receiving the honor. FormaL also earned MVP honors during the CWL Stage 2 Playoffs. When asked about his consistency following the second MVP award, FormaL cited his team. "It's not me. It's my teammates, I really mean that. They allow me to play like that and do the flashy stuff. I owe all of that to them."

Call of Duty esports saw a substantial rise in competition this year, with a year-over-year increase in participation of 400%. The playing field has also leveled in 2017, with nine teams capturing tournament wins around the world; including, Splyce, the first-ever European team to win a CWL event on North American soil.

Held in Orlando, Fl., the tournament featured the world's top 32 Call of Duty teams from North America, Europe, and the Asia-Pacific region (APAC) as they competed at the five-day event for a share of the $1.5 million championship prize pool, and the finale to this year's CWL season which offered $4 million in total prize purse, the largest in Call of Duty history.

"Congratulations to OpTic Gaming on a fantastic finish, our 2017 CWL Champions," said Rob Kostich, executive vice president and general manager, Call of Duty. "The 2017 season was the best yet with amazing competition and incredible fans at every stop. On behalf of everyone at Call of Duty, we congratulate all the teams on an outstanding year of competition and thank our fans for all of their amazing support."

Here are the final top placements after the CWL Championships:


1st – OpTic Gaming


2nd – Team EnVyUs


3rd – Luminosity


4th – Red Reserve


5th/6th – FaZe Clan


5th/6th – eUnited


7th/8th – Ghost Gaming


7th/8th – Splyce


This weekend's activities wrapped up this season of the Call of Duty: World League. When it comes back the teams will be competing in Call of Duty: WWII to see who is the absolute best at that game. The private beta on PS4 for Call of Duty: WWII begins on August 25, with other platforms to follow at a later date. Call of Duty: WWII will be released on November 3, 2017.