News: Bandai Namco has revealed that their One Piece remaster is headed to Nintendo's new console along with the PS4 and PC.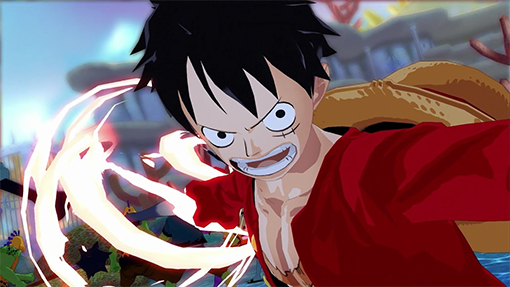 Bandai Namco has announced that One Piece: Unlimited World Red Deluxe Edition is headed to the Nintendo Switch, PS4 and PC (Steam). Sail the high seas with Monkey D. Luffy and the rest of the Straw Hat pirates in this action-adventure title remastered for the current generation of consoles with variable 60FPS frame rate, and over 40 pieces of downloadable content included for the most definitive One Piece Unlimited World Red experience yet. One Piece: Unlimited World Red Deluxe Edition is set to release digitally for the PlayStation 4 system and Steam on August 25, 2017 with the Nintendo Switch version to release digitally in the Nintendo eShop in September 2017.

The One Piece franchise is the best selling manga of all time, with over 400 million volumes sold to date due to its cast of stellar characters and riveting storylines. One Piece: Unlimited World Red Deluxe Edition brings that level of quality to the videogame realm with a game-exclusive storyline and original characters designed by Eiichiro Oda, the creator of One Piece.

Adventure awaits the Straw Hat pirate crew as they set their sights for the Forgotten Island with their new mysterious raccoon friend Pato. After landing on the island the Straw Hat pirates are kidnapped by The Red Count; a powerful pirate who escaped the depths of Impel Down, an infamous underwater maximum-security prison for the most dangerous criminals the world has seen. Luffy must explore the Forgotten Island, accept quests from residents, and take on enemies as he attempts to save his kidnapped friends. Console players will be able to take on co-op missions with a friend in local co-op mode or battle against each other in the Battle Coliseum. Players will be able to select from a large roster of popular One Piece characters, each with their own unique attacks fans of the show will be instantly recognize.

"We are thrilled to bring one of our most expansive One Piece games to the PC and a whole new generation of consoles," said Dennis Lee, Director of Brand Marketing at Bandai Namco Entertainment America Inc. "One Piece: Unlimited World Red Deluxe Edition offers a treasure trove of content for gamers looking for an exhilarating action-adventure game."

One Piece: Unlimited World Red Deluxe Edition is currently rated "RP" for Rating Pending by the ESRB and will carry a MSRP of $39.99 in the Nintendo eShop for Nintendo Switch, and on the PlayStation Store for the PlayStation 4 system, and Steam. Check out the trailer and tell us what you think. Will you be picking up this One Piece title later this year?