Reviews: Voodoo Vince is a fun platformer from the original Xbox and is hopefully a sign that Microsoft will bring back other forgotten franchises.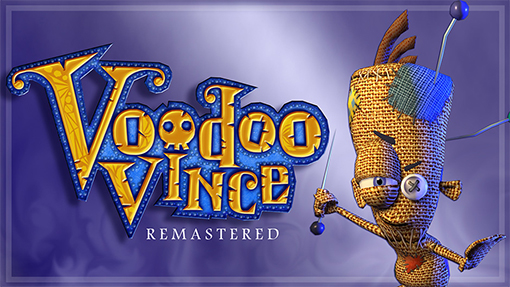 There's been an apparent focus on bringing back old school 3D platformers as of late and while the reception has been a little all over the place it's fun to see how 15 - 20 year old design has held up. While the original Xbox isn't best known for it's mascot style platformers that's not to say there weren't a few attempts to start a successful franchise in the genre.
Vince's journey begins when a pair of thugs working for Kosmo the Inscrutable break in to Madame Charmaine's shop. During the break in they release some of the zombie dust they were sent to steal. The resulting chaos knocks out Madame Charmaine and brings her "third best voodoo doll" to life. As the roustabouts drive off with the stolen zombie dust and a tied up Madame Charmaine she calls out to Vince and sets him on his path. Once off Vince will use his abilities to battle monsters, collect the spilled zombie dust and other items, solve puzzles and fight
boss monsters.
There's six main areas that are broken up into roughly 40 levels that each has it's own specific goal you need to meet in order to move on. Some stages are focused on solving a puzzle, some focus on combat or collecting specific items and some are platforming challenges. There's a nice mix of different types of levels and so I never felt like I tired of doing the same things. Combat is simple and consists of spins, punches and an air drop attack but the real fun of combat is using the voodoo powers. You'll need to collect beads in order to fill the voodoo power meter but when you use them you can take out whatever enemies are in your immediate vicinity all at once. The powers are varied as they are comical and you'll pick up more all the time since most stages have one or two to collect. Once you have them they'll be mixed into the random shuffle of voodoo attacks Vince will use when you trigger it by pulling both triggers at once. Each use will cost a skull that you'll refill by collecting the beads that drop when defeating enemies. With careful use you can fight most of your enemies this way as you can often refill most of another skull if you get multiple enemies at once. There's a comical sadism to these attacks as they involve Vince being hurt directly in order to take out his foes. This can be everything from summoning a bathtub with a shark that Vince happily jumps into or repeatedly taking a set of arrows to the face as they "miss" an apple that drops out of nowhere and hits him in the head. These are easily the best animations in the game as most of the attack and death animations for enemies are divided into about 1 of 3 different types depending on the voodoo power that kills them. I was always on the lookout for new powers and the collectible pages I needed to unlock more power skulls so that I could use them as much as I could. Voodoo Vince handles collectible items in the way I like best in that it doesn't feel like there's an excessive amount of them and they contribute directly to your power level by giving you more health and opportunities to use Voodoo powers. At about the halfway mark Vince will also get a magical all seeing eye that will highlight the locations of hidden items. With that combined with the fairly generous fast travel system it's less of a hassle to go back to previous stages where you missed something. This is also easy to figure out thanks to a list of levels in the pause screen that each have their own item counter for the things you can collect in each area.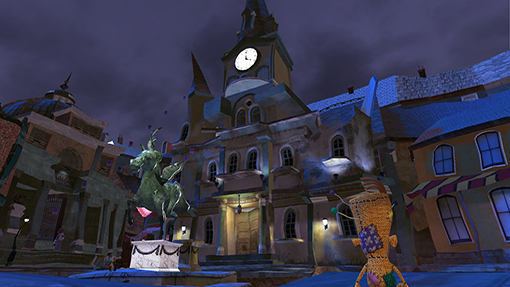 All said the game looks about how you'd expect for a game that came out 2 console generations ago. Most of the remastering has been in cleaning things up enough to look presentable on HD screens. Don't expect the sort of overhaul we've seen with games like the Halo Anniversary releases. Textures and environments look a bit flat but that's alleviated somewhat by the fact that the art direction for the game pulls it all together effectively. Everything is a little bit broken or crooked in Vince's world which helps give him lots of opportunities for platforming but also gives the environments a little more personality.
Voodoo Vince Remastered does a good job of giving the old doll a face lift and is hopefully a sign that Microsoft is paying attention to it's back catalogue of Xbox games that are due to return. It may not be groundbreaking but Vince has enough personality and puzzles to be worth revisiting. At a time when everything old is new again, this oft-forgotten platformer might actually feel more at home in 2017 than it did in 2003.