Reviews: Telltale Games partners with Marvel to give Peter and co. an excellent debut episode.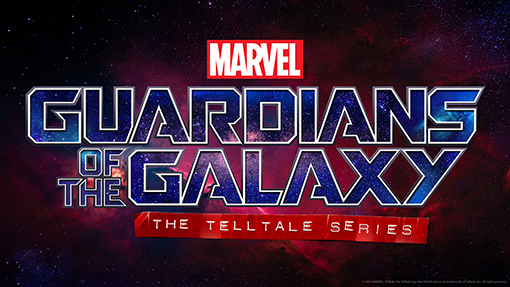 It's been awhile now since it was announced that Marvel and Telltale had struck a deal to make games with their properties and The Guardians of the Galaxy was one of the first set of characters I thought of and hoped for. The reason should be clear enough with it's ensemble of diverse heroes and interesting side characters and I'm happy to say that they've done a good job of setting the stage for the rest of the season.
If you're not already familiar with Telltale's previous work then it bears mentioning that Guardians is a choice based story game. Player control is restricted mostly to making dialogue choices, quick time event button prompts during most of the action sequences with a little bit of point and click exploring in between. Episode 1 does a good job of swapping between it's gameplay styles often enough as it sped it's opening act through to conclusion. There was just enough downtime between high action sequences to get a good sense of the direction they're going with this video game interpretation of Star Lord and company. Voice acting across the board is excellent and there's a clear thread of inspiration being drawn from the films. This might have gone wrong if it sounded like the voice talent were trying a little too hard to emulate the actors from the silver screen but everybody sounded pretty much how I expected them too and their delivery was on point for what is an excellent opening script. The tone and humor were exactly what I would expect from the Guardians and had me chuckling throughout the two hours or so that it took me to play through.
One of my favorite things about Episode 1 is also reflective of what I hope to see throughout the rest of the season and that's how it handles it's diverse cast of heroes. You'll play primarily as Peter Quill in this opening episode but there's also a fight sequence that shifts perspectives between each of the Guardians as they take turns attacking their foe. There's some great framing and choreography to the way it shifts focus from one character to the next and I felt it did a good job of giving everybody a moment in the spotlight. I hope to see more chances to play as the other Guardians in the rest of the season. Your choices also seem to impact not only Peter's relationship with the crew but also how they interact with each other. If I made a choice that Rocket didn't like but Gamora did then he was decidedly flippant with both of them for the rest of the episode. There's a lot of potential for a wide variation of outcomes as these decisions add up so I hope they make good on it in subsequent episodes.
The biggest caveat to my overall enjoyment of Tangled Up in Blue is an issue that has been persistent to varying degrees across all of my experiences with Telltale's games and that's with performance. It's disappointing that after as many games as they've put out over the last few years that this stuttering and momentary freezing continues to be an issue. It seems to happen most often when saving and switching scenes and while it's not as bad as I've seen in some of their previous games it's still persistent enough that it's hard to just ignore, especially when I had one instance where the frame froze for a solid 5 seconds before moving on. Presentation is otherwise excellent which just makes the performance problems stand out that much more. The art makes it feel like you're playing a 3D comic book and the composition of it's scenes and the way it layers in a soundtrack of pop/rock of the 70's is heavily influenced by Marvel's cinematic output. The game isn't beholden to previous incarnations of comic or film however so it certainly feels like Telltale will continue to do what it does best and take beloved characters and give them a unique and well written adventure.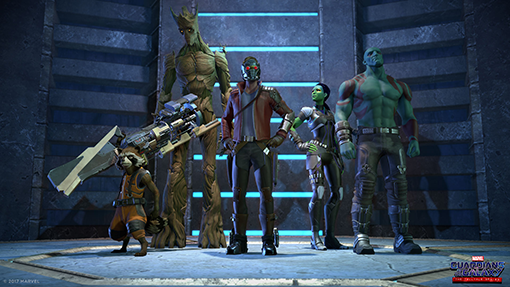 The latest entry in Telltale's ever growing library of licensed story games sets up an intriguing tale for the Guardians and I'm excited to see where it takes them over the course of the season. If the performance issues kept me frequently annoyed it's mostly because there's so much I like about Episode 1 of Guardians of the Galaxy. If they can keep the pace for the rest of the season then this stands a very good shot at being my favorite Telltale game to date.