Reviews: Does Faiths first adventure in the City of Glass hit the ground running or trip over the starting line?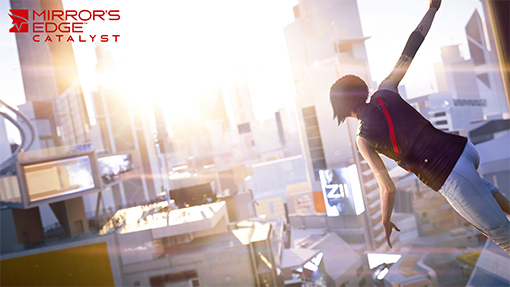 There are a handful of games from the last decade or so that I've been dying to get a follow up to. The original Mirror's Edge has been near the top of that list since the first time I played it. When it was announced that DICE would be returning to the City of Glass to tell the origin story of the first games' hero Faith I was almost as surprised as excited. So how does it translate into an open world game and measure up to the original?
Mirror's Edge Catalyst's greatest strengths are very much similar to to what made it's predecessor so different at the time. The focus on first person traversal mechanics and it's striking minimalist art design makes Mirror's Edge stand out as much now as it did in 2008. The biggest shift in terms of game structure comes in the form of now being in an open world. Despite being laid out in a way that is impressively cohesive it also manages to feel empty, lifeless and unnecessary in terms of some of it's gameplay. Too many open world games use collectibles as a crutch to justify their existence and to pad out a player's time. In this way Catalyst is among the most egregious offenders I've seen this generation. The myriad of "Gridleaks, documents, and electronic parts" all feel like distractions meant to slow me down from completing the game too fast, which to be fair is not all that long. The main missions can be completed fairly easily in about 8 to 10 hours. If it wasn't for the minimal amount of experience that's doled out with each of these collectibles I probably wouldn't have bothered at all. Some of them will trigger an audio log that is meant to fill out the narrative but they're short and so devoid of any meaningful context that I wasn't compelled to seek them all out. It all serves to do little more than feed into a skill tree system that has most of it's key upgrades unlocked automatically by completing story missions which left me wondering why they had bothered at all.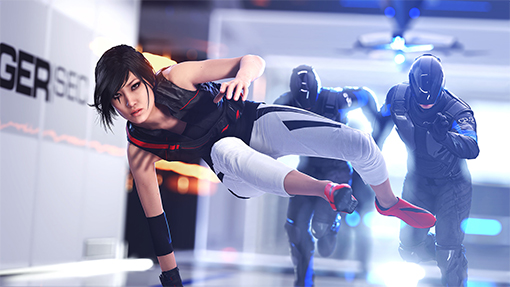 Outside of collectible and delivery missions there are also dash events and Gridnode missions. The former you can't really fail per se and you get credit for completing it no matter what time you post. At the end you'll see how you stack up against other player and get a star rating. There's an an achievement/trophy for getting a 3 star rating for every dash but I didn't see much else in terms of in game reward other than competing against your friends. The latter helps open up fast travel points in a given district but given how much fun it is to simply get around I didn't bother doing them all. Oddly enough these missions are among the better pieces of Catalyst's mission structure. Puzzling your way to the top of these large server rooms by using the right combination of moves without tripping an alarm proved to be a highlight of the whole experience. It's a shame then that they feel kind of unnecessary.
The lack of real meaning or variety in the collectibles extends to the side missions and other activities as well. While it makes sense that most of the side activities would be centered around getting from one place to the next quickly, most the of the delivery and time trial activities can wind up being more frustrating than fun. In most cases you're on a very limited schedule to get to your dead drop or delivery point but you can get there however you want. The in game "runner's vision" will give you a path to your objective but it's almost never the fastest route and often is just plain not fast enough to even get there. This is fine since it forces the player to do more than just follow the path laid out for you in red if you're using "Runner's Vision." It demands some experimentation on the part of the player to find shortcuts wherever possible but becomes frustrating when you have to hear your client's life story over and over after every failed attempt. The intent is to create some context to the life of the citizens of Glass and my impression is that none of them have anything very interesting to say.
There is an unfortunate lack of depth to both the world of Mirror's Edge Catalyst and the characters that inhabit it. Faith and her supporting cast suffer from underdeveloped relationships with one another and dialogue that sounds stilted and forced. The motivations and politics among the key players of Glass are about as unimaginative as they are vague. At no point did I buy into what any of the characters were supposed to stand for because there was very little to latch onto in terms of why they believe what they do. This lack of personality gave me very little reason to become invested in Faith's story.
With all that there's still stuff to like about Catalyst. Traversal from one area to another remained fun enough to make me forget there's even a fast travel system in the game at all more often than not as it's a joy to use all of Faith's abilities to get around the city. The fact that the entire world is laid out as such to make running consistently smooth and varied in a way that is also cohesive and fun to explore its many districts is impressive. Each district has its own style and the city ranges from gorgeous to relatively boring depending on the color palate and time of day. In general I found the city to be far prettier at night but the lack of a real-time day/night cycle means you'll be stuck with the canned time of day that only shifts between main missions. The best parts of these main missions usually involve you having to escape Kruger Sec (Glass' corporate security force) or take them head on in mostly brief instances. In most cases it's better to run than to fight given Faith's inability to use weapons at all. Running smoothly without taking a hard landing or slowing down too much will build up a focus meter that acts as a sort shield to keep you from being gunned down. This imperative to keep moving even in confined spaces will be what keeps you alive in the instances where you're forced to fight your way out. Quick hit and run tactics will serve best when going up against multiple armed enemies and attacks from above are especially effective. Getting the high ground and staying mobile will be the key to winning most fights. It's when things slow down and you go head to head with melee enemies that things break down a bit. The combat isn't awful but enemies are stiff and predictable. The pattern of shifting out of the way of an incoming blow before getting a couple quick hits in is too easy and winds up feeling more like a chore than anything. It drives home the truth that Faith is always at her best when on the move.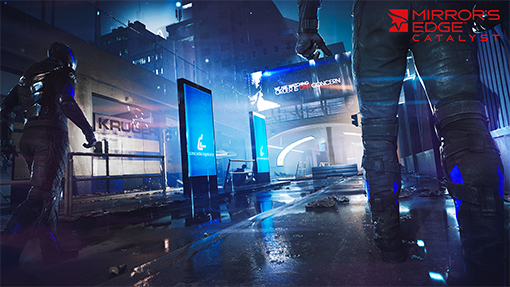 The overarching theme of Catalyst seems to be one of only surface level depth. From cookie cutter characters and dialogue to bland mission structure there's just a lack of any real meaning to anything that happens in the course of the game. The design seems to cover some sort of arbitrary checklist of what needs to be in an open world game but fails to make most of it engaging in the long term. The resulting padding drags down an experience that is highlighted by its excellent free running mechanics and unique visual aesthetics. At the end of the day the City of Glass is worth visiting for its labyrinthine world that's a blast to traverse but it'll be tough to find reasons to stay.