Reviews: Need for Speed is a beautiful game where you can customize your own car as you try and get your crew on the map.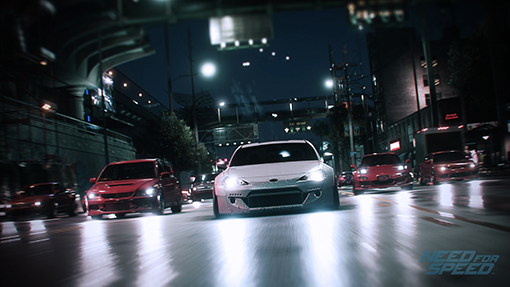 Barreling down the freeway in white knuckled concentration at nearly 200 miles per hour I weave around an oncoming truck whose blinding headlights whip past me with just inches being the difference between racking up a "Near miss" reputation bonus and a disastrous wreck ending my desperate bid to take first place in the final moments in a critical race spanning half the city. I pull up close to the leader, drafting behind him to fill my nitrous before I make my move as we hit the winding exit ramp where we both throw our tail out in a synchronized drift that's got us pinned between each other and the guard walls on either side of us. Touching either is a guaranteed spin out for one or both of us. As the exit winds out and into the city streets I see my chance, straighten out and empty my nitro to pull ahead and cross the finish line just barely ahead of my rival. This is the new Need For Speed.
While being one of the longest running and storied racing series in video games the Need For Speed franchise for all it's 20 plus years has never really had an established formula that every game has adhered to. Instead the series tries new things, makes radical changes and reinvents itself every couple of years. With the latest entry EA and Ghost Games have attempted to draw from the best elements of past entries in order to establish a core of what makes a good Need For Speed game and the results are mostly positive.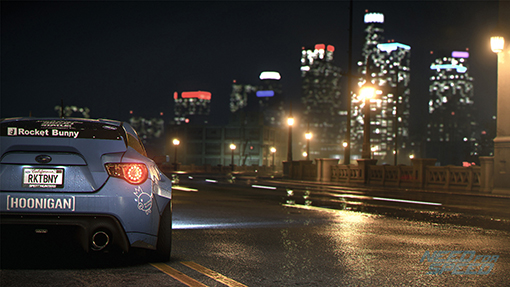 From the start, Need For Speed aims to tell you a story of urban car culture. You're put in the role of a nameless new guy that serves as the first person camera to which the rest of your crew's narrative unfolds. With the player being the crux of their success. Each member has a specific racing discipline and set of goals to get noticed for their specialty and it's your job to help put your crew on the map. It's a simple backdrop that plays out through a series of FMV cutscenes that are entertaining despite the over acting and some dialogue that's sure to induce some eye rolling. It's a good way to give context to what you're doing from race to race in spite of itself.
A racing game is nothing without it's cars and this is perhaps simultaneously the game's greatest strength and weakness. The cars available are all desirable in their own way and any car lover should be able to find at least a couple that they can fall in love with. Which is all you'll need realistically because other than different base speed stats the cars don't really feel all that different from one another to drive. The upshot to this is the fact that pretty much any car is viable throughout the course of the game because in the end it's upgrades that will win the day. Rumble triggers are also utilized on Xbox One so hard braking, drifting around corners or doing donuts in a local parking lot will all give your fingers some welcome feedback. Thankfully each does have unique engine sounds and the roar of tires screaming through a drift or doing donuts sounds exactly as satisfying as you'd want it to. While many of the early races are extremely easy it won't be long before you'll need to pour your winnings into a whole range of upgrades to make your car better, faster, and more personal. Forced induction, fuel systems and cams will help you go faster while upgraded brakes, suspension and sway bars will give you a wider range of handling options. These are critical since tuning your car for specific race types will mean all the difference in your chance of success. If the idea of tuning your car specifically for drifting sounds overwhelming then don't worry, you can tune your handling to be better for drifting or grip with a simple master slider at the top of the handling tab in the garage. You can also fine tune it further if you're so inclined but I found the master slider to be the fastest and most effective way of changing things up for different race types.
You'll never have to wait too long if you need to mix things up because a jump to the garage is always just one click away with the "view" button on Xbox One and equivalent on PS4. Loading in and out of the garage from the open world is a quick enough load that frequent visits never felt cumbersome. You'll buy, sell and manage all your cars here and the options available are wide enough to make every car feel your own with body kits, upgrades and a livery editor. While not as deep or precise as what you'll find in Forza for example the editor provides a good range of shapes, logos and designs that talented artists should be able to create some impressive works with. I found myself wishing for a numbered grid to place my designs more precisely but it's an easy to use system overall. All of these things serve to really give a sense of attachment to your favorite cars that many other racing games lack and I had a great time building up my personal masterpiece (a Porsche 911 GT3) that I could use in just about every event available in the game.
The love you build for your car will extend to the world around you as you explore the beautiful Ventura Bay. It's perpetually dark and just rainy enough to give everything a wet sheen at all times. Tail lights, street lights and the neon city reflect off the pavement and your car in a way that invokes the old Underground games in the best possible way. It helps add to the sense of speed as you zip around the city with it all becoming a bit of a blur around you. There are a few collectibles sprinkled throughout the city but aside from the "free parts" you can find they don't seem to add too much of a reason to explore. I did find myself cruising around at low speeds from time to time simply to take in how pretty it is though. Need For Speed is a gorgeous game so it's a shame that there's such a frequent dip in performance. There was enough slowdown and stuttering to get genuinely annoying by the time I was finished on Xbox One. Whether this is a result of connectivity problems between players in the shared world or just general performance isn't clear but every once in awhile there would be a quick dip for a couple seconds before evening out again. This can be especially problematic if you're in the middle of a critical turn and the input from the controller doesn't quite match what you expect to see on the screen. It was never enough to ruin the experience for me but it was certainly enough to be annoying.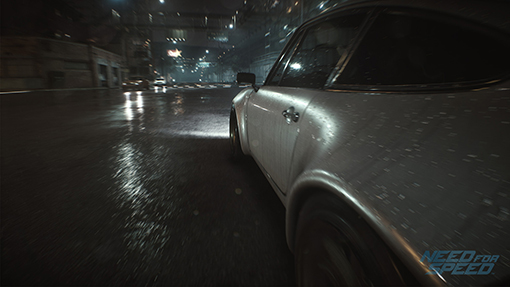 Need For Speed is beautiful, accessible and empowering in terms of giving you a reason to invest in your favorite car. There's enough customization here to really make you feel like you're building an icon and thanks to the upgrades you can keep your lower end favorites viable against opponents driving the exotics. Autolog will give you a monetary incentive to chase your friends' scores but the shared online world didn't give me any real reason to interact with other players in a meaningful or fun way. The loop of using my winnings to upgrade my car or saving for a new one to take on the next challenge more easily was an addictive one and I found myself frequently wanting to do "just one more race" to get that next part, that next car or see the next stage in my crew's quest for greatness. Despite it's flaws it injects more personality than the series has had for years and does an admirable job of giving you that "Need."