Cyber Monday Deal News: The PlayStation 3 bundle that includes Disney Infinity Marvel Superheroes is the most inexpensive way to get started with Sony's system at Best Buy.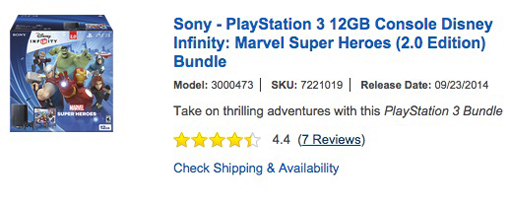 PS3 bundles for Cyber Monday don't get any better than Best Buy's Disney Infinity Marvel Superheroes pack-in that give you a free game for a discounted price.



Best Buy's PS3 12GB Disney Infinity: Marvel Superheroes bundle for $179.99

brings the console and Iron Man, Thor and Black Widow toys and more to your kids by Christmas. It's cheaper than all of the other stores, even though Best Buy isn't offer as many video game savings overall this year.

All other retailers are charging on average $199 for this very same PS3 bundle with Disney Infinity: Marvel Superheroes.

Amazon

, GameStop and and the usually cheaper Walmart are running behind Best Buy.

In fact, this is the cheapest we've seen the PS3 console - and or not - during Cyber Monday. Yes,

Walmart has an $179 PS3 sale

, but it's no cheaper and doesn't include a game. That's not much of a value and makes shopping harder on you.

For purchasing

Disney Infinity: Marvel Superheroes

and

Skylanders Trap Team

on sale separately, check out our additional Cyber Monday deals news on

Gaming Target

and in the right-side bar.