Cyber Monday Deals News: Cyber Monday deals are beginning to emerge with free games for the Sony next-gen system instead of official price drops. You get just more value.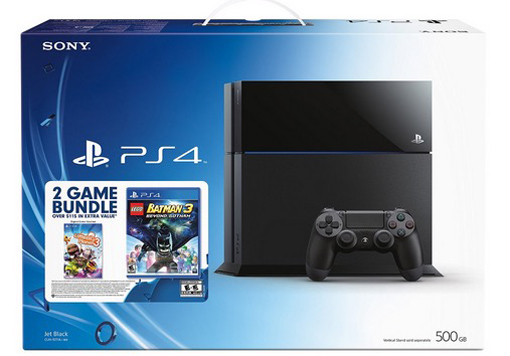 PS4 bundles for Cyber Monday are on sale right now, with retailers like Amazon and Walmart providing the best deals. You won't find discounts on the PlayStation console itself, but a pair of free games for no extra money.

Amazon's PS4 bundle with Lego Batman 3 + Little Big Planet 3 for $399 is ideal for everyone, from kids to adults. It features two of the top franchises enjoyed by a general audience, for a price that's parents won't mind paying because it includes the system with free two games. Not a bad start to your PlayStation 4 collection.



The same sort of offer applies to the more adult-oriented

PS4 bundle with Destiny for $399

. It only comes with one game, but it's a game from the makers of Halo, so it's hard to go wrong with this Teen ESRB rated game. Plus, the console and controller come in an all white color.

Don't go to Amazon the next bundle.

Walmart's PS4 GTA 5 + The Last of Us Remastered bundle for $399

is $100 cheaper than for Amazon's price.

Best Buy's PS4 GTA 5 + The Last of Us Remastered bundle is $399

too through Cyber Monday, making it an alternative option.

Finally,

GameStop matches with a PS4 GTA 5 + The Last of Us Remastered bundle for $399

. You can't go wrong with this Mature ESRB rated bundle, unless of course you pay through the nose via Amazon.

Check back for more Cyber Monday deals on

Gaming Target

throughout the week.