Cyber Monday Wii U Bundle News: Wii U bundles are hard to come by, but Walmart has the best value for the Nintendo console, even if the price has not officially been discounted.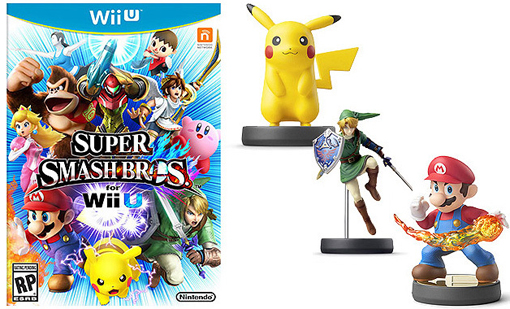 If you're looking to buy a Nintendo Wii U bundle during Cyber Monday, it's on sale at Walmart, at least if you count the free games that come with the system.

Walmart's Wii U Mario Kart 8 + Nintendo Land Deluxe 32 GB bundle is $299.96, which is only three pennies shy of the normal Wii U bundle. But it comes with two extra games that the standalone console does not. And really, one of the games is worth owning: Mario Kart 8. It's hard to pass up this bundle.



At least, it's hard to pass up until you consider Walmart's pricier, but even more tempting

Wii U with Super Smash Bros Mega Bundle with Extra Fight Pad Controller and Choice of Amiibo Character for $379

. Yes, it's more expensive, but it's a great value.

It features the upgraded 32GB system, Super Mario 3D World, Nintendo Land, Super Smash Bros Wii U, one of three Amiibo characters and a specialized GameCube controller.

There's a third Wii U bundle at Walmart. The Nintendo Wii U Super Mario 3D World Deluxe Set Console for $299.96 comes with Super Mario 3D World, as you may have guessed from the name, and Nintendo Land.

Gone are the days when Walmart let you configure your own holiday bundle, but this is the best Wii U deal we could find, especially if you pony up enough cash for the Super Smash Bros bundle. No one else is offering this sale or anything close to it, including Best Buy, Amazon and Walmart. And it's likely to stay that way if we remember last year's Cyber Monday deals correctly, as Walmart dominated the pre-Christmas sales.