Black Friday News: Where is the best deal when buying Wii U on Black Friday. The discounts are at Best Buy, Walmart or GameStop if they are not already sold out.

Update: Following overnight Black Friday sales and inventory drop-off, all Nintendo Wii bundles are back in stock. But be sure to check all pages to make sure.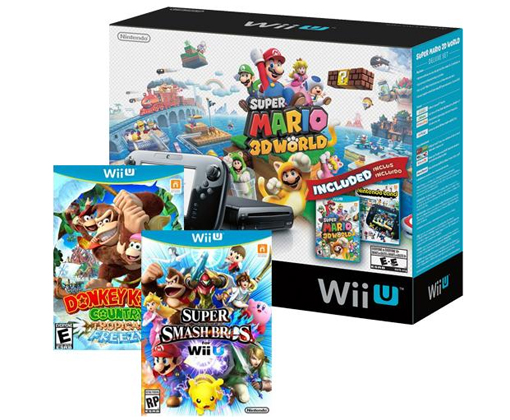 Wii U bundles during Black Friday deals are hot, even though Nintendo's console struggles during every other day of the year. That's because kids love the system, parents want to please their children and the free games included seem like a worthwhile investment. Well, they are, if you can get the sales while they're still available.


Walmart Wii U bundles

Case in point, Walmart's Nintendo Wii U Deluxe 32GB console that bundles Mario Kart 8 and Nintendo Land for $299 (update, back in stock) was sold out overnight. The same deal applied to the $299 Wii U Deluxe Super Mario 3D World Set console bundle (update: also back in stock) at Walmart.

Be sure to buy it online or at least reserve these Wii U bundles with "pick up in store" or "in-store pickup" to beat the Black Friday crowds and possible sell outs.


Best Buy Wii U bundles
As backup plan, Best Buy is carrying similar Wii U bundles for the same discounted price of $299. Check out the
Wii U Deluxe with New Super Mario Bros. U and New Super Luigi U
There's also
a second Wii U bundle combo at Best Buy
with Nintendo Land instead of New Super Luigi U for the same price. Pick your poison(ous) mushroom.
Willing to spend a little more this Black Friday? The
most value in a Nintendo bundle at Best Buy
packs in Super Mario 3D World, Super Smash Bros. Wii U, Donkey Kong: Tropical Freeze and Nintendo Land. Sure, it's a steeper $360, but for all of those games, that's not a deal, it's a steal!
GameStop Wii U bundles
GameStop also has a couple of noteworthy Wii U bundles on deck. The
best GameStop bundle
combines the deluxe console with Super Mario Bros. Deluxe, Nintendo Land and the "Super Smash Bros bundle." That means you're getting the new game and classic GameCube controller at a deep discount.
We'll update Gaming Target with more Black Friday deals as the night progresses.