Black Friday News: Black Friday is upon us and you can buy the Xbox One console bundle with two games for $329 through Amazon.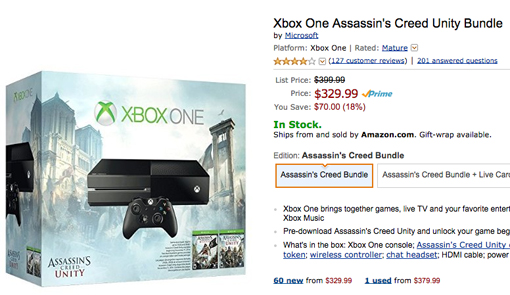 The best Xbox One bundle deal for Black Friday is at Amazon for $329, which is normally a good price - but then you realize that the comes with two free games. Both games happen to be Assassin's Creed related.

Yes, the Xbox One Assassin's Creed Unity Bundle from Microsoft brings Ubisoft's latest entry, Assassin's Creed Unity, as well as last year's Assassin's Creed 4: Black Flag. It's important to note that both games come in the form of downloadable tokens, not physical games discs.



This Black Friday deal is priced the same as the standalone Xbox One that also costs $329. You might as well earn two free games while you're out holiday shopping.

This particular Xbox One bundle doesn't come with a Kinect. That's why it's being offered at such a discount. Ponying up for Microsoft's camera accessory with the Xbox One with Kinect Assassin's Creed Unity Bundle brings the price up to $429.

Really, the Kinect-included bundle isn't worth it as so few games rely on it. Plus, you can always buy it later if you absolutely find a need for one.

Check back for more Black Friday deals and Xbox One bundle discounts. Between now and Cyber Monday, there are going to be a treasure trove of sales.