Xbox Live Down News: Microsoft confirms that an Xbox Live error message is showing up when some users try to sign in. This is the first time it's down in 2014.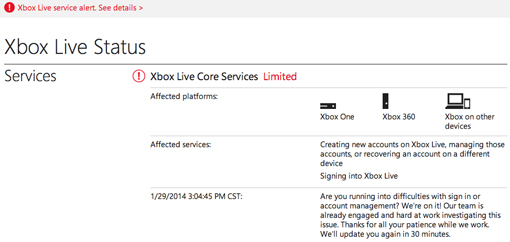 Xbox Live is down for several users of Microsoft's subscription-based online service for Xbox 360 and Xbox One whenever they try to sign in under their gamertags.

This is so far affecting signing into Xbox Live, managing accounts and creating new Xbox Live user names, according to Microsoft's official Xbox Live stats website.



"Are you running into difficulties with sign in or account management?" We're on it!" said Microsoft in a statement on the site.

"Our team is already engaged and hard at work investigating this issue. Thanks for all your patience while we work. We'll update you again in 30 minutes."

The online status core services is listed as "limited," meaning Xbox Live may be down and offline for certain users and not others.

All other services and apps appear to be back online, including Netflix and HBO Go. However, that's of little consolation if you can't sign into Xbox Live in the first place.

An XBL Gold subscription is required to stream all multimedia content on both the Xbox 360 and newer Xbox One.

We will update this story as soon as Xbox Live is back online for all users who are currently experiences its limited downtime.