Xbox One In Stock News: Where to find an Xbox One console? Amazon has the Microsoft next-generation system on sale and it includes Amazon Prime free shipping.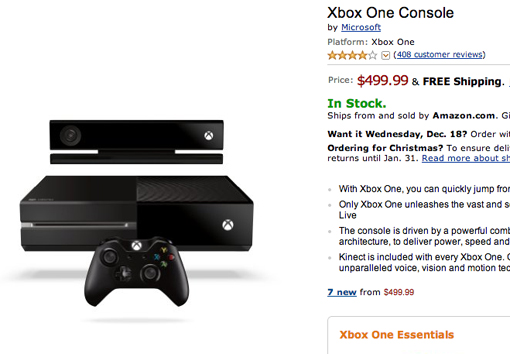 The Xbox One console is back on sale at Amazon, as the online retailer is currently in stock of the once sold-out video game system for the first time since Black Friday and Cyber Monday.

The Xbox One costs $499 and includes free shipping before Christmas. Amazon Prime members are able to get next day delivery.



People have been having a hard time trying to find an Xbox One in stock at stores, and only recently has persistent online shopping paid off with the supply catching up to demand this weekend.

The good news is that unlike GameStop, Amazon isn't forcing bundles on consumers, especially parents who may or may not know that the console can (and in a lot of cases should) be bought without games attached. There are now a number of Xbox One game discounts, so an console bundled with games isn't a savings anymore.

This standalone Xbox One unit comes with the bulky system, a controller and the new Kinect camera. Worst comes to worst, gamers can download Xbox One game demos as well as full games from the Internet like Kinect Sports Rivals and Killer Instinct

Of course, quantities of Microsoft's new Xbox are limited, so snapping up this deal today is suggested. The Xbox One is in stock as of our news update, but may not be in the future.