Walmart Wii U Price: Walmart has the Wii U on sale, updating the usual Nintendo console Deluxe holiday bundle with games and an extra controller.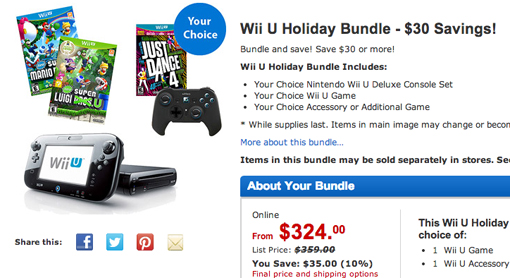 The Wii U bundle price at Walmart will save you $30 on the Deluxe version of the Nintendo console, according its Holiday Bundle.

That means for $324, if you're online shopping for a Wii U, you get the black console with 32GB of internal storage and up to four games for free. The games included with this Wii U bundle, like many others out there, is New Super Marios U and New Super Luigi U.



However, this typical bundle also packs in an additional game and four game or a controller - both of which are the consumers' choice. There are 10 games to choose from, including Assassin's Creed 3 for Wii U, Mass Effect 3 or the more kid-appropriate Rabbids Land.

Thee list price on everything in this bundle is about $359, so today's Walmart Wii U deal is a 10% discount. Even better news, unlike Xbox One and PS4, Nintendo's system is readily in stock at the retailer giant and it's even throwing in free shipping.

While the best Wii U bundle prices were during Black Friday and Cyber Monday everywhere else, Walmart has continued to offer its discount throughout the holiday season. Parents looking for the console as a gift to their kids are no doubt pleased with this decision.

Read more news about video game consoles on sale from the list of links on the righthand column of Gaming Target. The

iPad deals at Walmart

are also making the Apple tablets a hotter than normal item this Christmas.