Xbox 360 Kinect bundle deal: Xbox 360 E 4GB Kinect Holiday Value Bundle at Walmart is on sale for $50 cheaper than other retailers, and it still comes with two free Kinect games.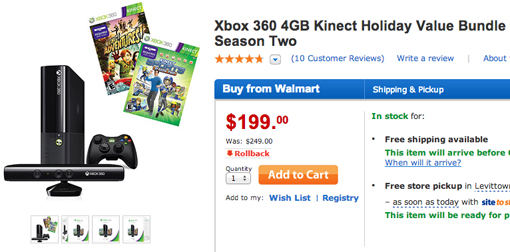 The Xbox 360 console with Kinect and free games included is on sale this weekend at Walmart for $199, a deal that is $50 cheaper than other retailers like Amazon, GameStop and Best Buy.

Officially called the Xbox 360 4GB Kinect Holiday Value Bundle, this Walmart deal includes both Kinect Adventures and Kinect Sports Season Two as its freebie camera-required video games. They're both fun and make good use of Microsoft's first-generation camera system.



The Xbox One 4GB consoles also comes with one regular Xbox 360 controller and WiFi built into the system. There's no need to string an Ethernet cable throughout the house or buy an additional WIFi adapter anymore.

This Xbox One bundle at Walmart for $199 beats the $250 prices we've been seeing at Amazon, Best Buy and GameStop throughout the weekend. There's very little, if any, chance you'll find the last-generation Microsoft console and Kinect on sale before Christmas at the end of the month.

Check Gaming Target for more Xbox 360 and Xbox One bundle deals as the holiday sales wind down and the countdown to Christmas draws to an end.