Assassinís Creed 4: Black Flag On Sale: The best price for Assassinís Creed 4: Black Flag is $10 cheaper than what it was a few weeks ago, the Ubisoft game is appealing to holiday buyers.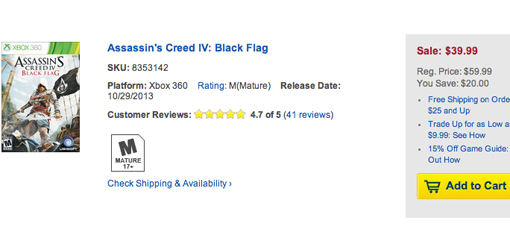 The best price for Assassinís Creed 4: Black Flag is at Best Buy this weekend, at least as long as the Ubisoft video game is in stock.

The cheapest we found Assassinís Creed 4: Black Flag on sale for Xbox 360 and PS3 is at Best Buy, where these two versions of the game are selling for $39.99. That a significant discount considering the game cost $60 when it first came out.



Assassinís Creed 4 for PS4 is slightly cheaper at Amazon, where the game costs $48.99, which is more than $10 off of the normal MSRP of $60. Thatís just for the PS4 version and may be a temporary price fix to beat competitorsí sales.

Pretty much every other version of Assassinís Creed 4 is $49.99, and thatís the price you would expect to pay for the game on sale for Xbox 360, PS3, Wii U and the PC. The only exception at Amazon is the Xbox One version of AC4, which is going for a steeper $59.99.

Thereís no reason the Xbox One Assassinís Creed 4: Black Flag should cost $10 more than the PS4 version, which is also a next-generation console edition. In fact, Sonyís console enables 60 minutes of additional gameplay compared to the Xbox One and Xbox 360 versions.

In any event, GameStop and Walmart appear to match this odd pricing scheme. In review, go for the current-generation consoles versions at Best Buy, while sticking with Amazon for anything new just in case you canít have to pay sales tax on your video games right away.