Xbox One Bundle On Sale: Xbox One in stock at Best Buy and the console, along with CoD Ghosts, can be delivered for Christmas, according to the retailer.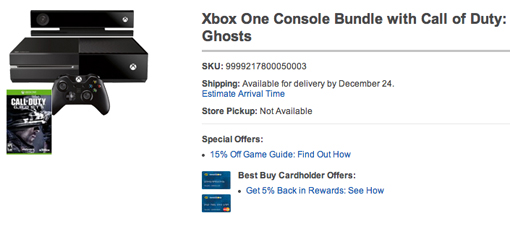 Best Buy has Xbox One in stock with Call of Duty: Ghosts bundled at a slight discount today. The electronics retailer is selling the Xbox One bundle for $549.98, which is $10 under what you'd normally pay in the store for the system and video game separately.

Microsoft's console is hard to find at other stores, but Best Buy is said to have a limited supply of Xbox One consoles in stock this weekend, and it's not charging customers anything extra. In fact, it's offering them a few choice deals like this Xbox One CoD Ghosts bundle.



In addition to packing in the new Call of Duty game, a limited number of

Xbox One are being sold as standalone consoles

for $499.99. There's also an

enhanced CoD bundle

that comes with 12 months of Xbox Live Gold service for $629.96, a discount of $50 over the list price.

With CoD Ghosts DLC coming to Xbox One first over its PS4 and PS3 counterparts, Microsoft's next-generation console remains the proper way to play the Activision first-person shooter. Getting it at a bargain is an even better way to enjoy the Infinity Ward-developed game while entering into the new era of video game console with Xbox One.

Stay tuned for more video game deals leading up to Christmas, as retailers put deals out for late online shopping consumers throughout the weekend.