Xbox 360 4GB On Sale: A new Walmart deal brings the Xbox 360 4GB price to $149, which is the cheapest we have found the Microsoft console in our online shopping research.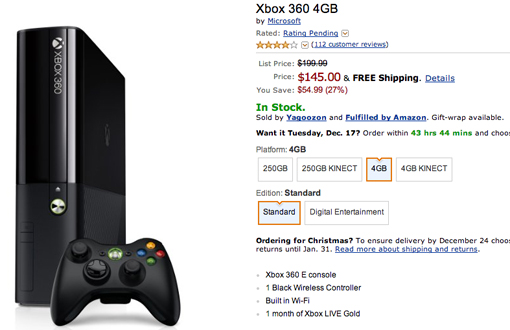 Amazon has the Xbox 360 4GB console on sale this weekend, discounting the video game system more than any other retailer this holiday season.

This is the cheapest price for the Microsoft system in price comparison analysis. Normally $200, the Xbox 360 4GB is selling for $150 at Walmart and Best Buy. It's even more expensive at GameStop, where the video game retailer is charging a steeper $180 for the barebones console.



Finding the Xbox 360 4GB edition in stock isn't a problem. It's figuring out which store has the best price and which model to chose, as there are multiple configurations and bundles. If you're searching for kids, the Xbox 360 Kinect bundles is a good deal, albeit pricier than purchasing the standalone 4GB console.

For parents, it's going to come down to the Xbox 360 4GB or the Xbox 360 Kinect Holiday Bundle. The price differences are vast, but you may end up buying into Microsoft's Kinect camera and the games in the future. It's a matter of: do you want to pay for them now and have the kids open them up on Christmas day or wait until the future?

One idea is to invest in the cheaper 4GB Xbox 360 at Amazon and looking for these used games and a pre-owned Kinect at other retailers after the holidays. Post-holiday deals are typically running in January when retailers know that returns could be offset by additional purchases and exchanges.

Either way, the Xbox 4GB console is worth looking into if you're online shopping for the Microsoft system this holiday season.