CoD Ghosts On Sale: Where is the best CoD Ghosts deal? Xbox 360 and PS3 versions have the lowest prices at Walmart, while Amazon is cheaper for Xbox One, PS4.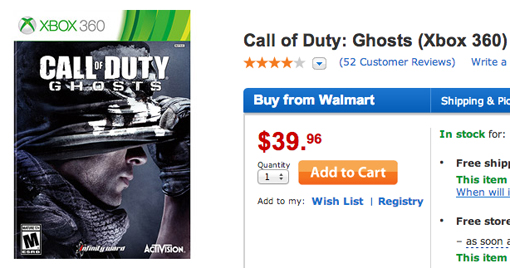 The best Call of Duty: Ghosts deal out there today is at Walmart, where the retailer has the Xbox 360 and PS3 versions of the game on sale for $39.96. That's not only a few pennies cheaper than most stores but a $20 discount.

Compare that to Best Buy and GameStop, which are still selling CoD: Ghosts for $59.99, the Activision game's full MSRP. Online Shopping has made it easy to find the lowest price on video games this holiday season, and this is a prime example of that.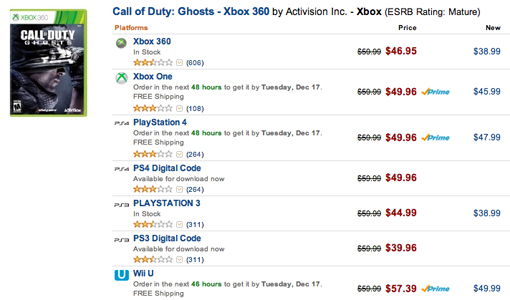 If you're looking for
CoD Ghosts for Xbox One and PS4
, it's $49.96 at Amazon. Amazon is price matching Walmart's new Call of Duty deal, but there's a chance you won't have to pay sales tax up front with Amazon. That may be the better of the two options depending on your state.
It's interesting to see the various Call of Duty: Ghosts price that retailers are charging, with a $20 difference between major stores. Best Buy and GameStop know they'll sell CoD Ghosts at a higher profit, while Walmart and Amazon are interested in bringing in shoppers and hoping they exit with an online shopping cart full of other profitable products.
The $39.96 price for Call of Duty: Ghosts is likely the best price you'll find between now and Christmas.