Disney Infinity Character and Kit On Sale: Disney Infinity for Nintendo Wii U is the cheapest version of the characters based game followed by the Xbox 360, PS3 and Wii editions.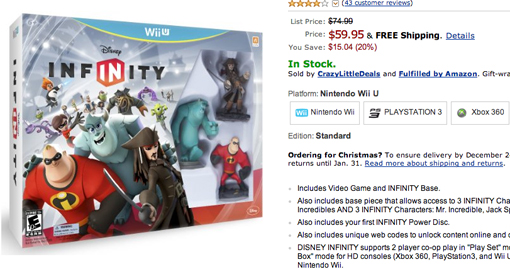 Amazon has Disney Infinity is in stock right now, while other retailers are sold out and charging more for the video game that involves the movie studio's beloved characters.

The essential Disney Infinity Starter Pack is $15 cheaper at Amazon compared to Best Buy and GameStop, which are charging $74.99 for the game. The same character included kit sold through Amazon starts at $59.99 on the Nintendo Wii U.



The same Wii U version is $5 more expensive at Walmart. But even at that price the retail giant sold out of its inventory during this crucial pre-Christmas online shopping weekend.

Granted, Amazon's prices rise with varying systems. The PS3 and Xbox 360 versions are $65, while the regular Wii edition is $66. There's no Disney Infinity Xbox One or PS4 versions in development, so buying the game for the next-generation systems isn't an option.

Of course, seeing how well Disney Infinity is selling, it may only be a matter of time before the characters spawn a sequel for current consoles and a whole new set of systems.

You can find more Disney Infinity characters on sale at Amazon through the shopping season. Collecting as many of these Disney toys as possible can become an addictive form of entertainment, just as much as the game. It depends on how much you enjoy the classics.