Wii U Bundle Deals: Where is the best place to buy Nintendo Wii U? If you're looking to score free games with the console, then Walmart is the answer.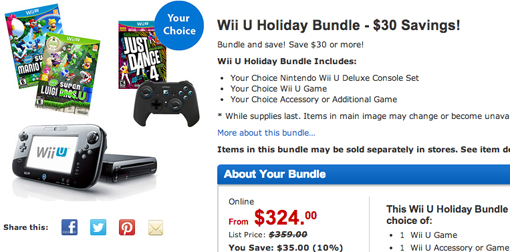 Nintendo's Wii U console bundle isn't hard to find in stock right now, but getting a good deal on the Deluxe version can be a little bit tricky if you're not online shopping in the correct place.

Luckily, the Walmart Wii U bundle hits the right price considering the fact that it comes with four games total packed into its $324 sale price. Once again, that's four games included.



The first of the four games include the 2D platformer titles New Super Mario Bros U and New Super Luigi U. That's not surprising since they're including in the normal bundle being sold everywhere else.

Exclusive to Walmart, however, is the fact that this black Wii U system also has two extra games and they're both your choice out of 13 games. Walmart's custom bundle also lets you swap out the second game for an accessory like the Wii U Pro controller, if case the included GamePad isn't your style.

This is a good deal mainly because the Wii U console normally retails with an MSRP of $299.99. Two extra games for $25 is the right way to start both a Wii U games collection and the online shopping season this holiday.