Xbox 360 Bundle Deals: The best places to buy an Microsoft Xbox 360 on sale with games is Walmart and Best Buy starting at $209.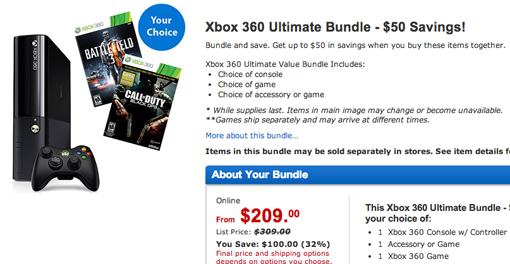 Walmart has one of the cheapest Xbox 360 bundles on sale for $209. Itís dubbed the Xbox 360 Ultimate Bundle because it comes with normal console and controller, a game of your choice and an extra controller of other accessory.

The retailer giant has specialized in custom video game system bundles, and this one offers the right way to get started for both young and adult gamers with games. Games options include everything from Just Dance 2014 to the always-more-adult Grand Theft Auto 4.



Looking for an Xbox 360 bundle that comes with Kinect?

Amazon has the Xbox 360 E 250GB Kinect Holiday Value Bundle in stock

and it comes with three games: Kinect Sports Season 2, Kinect Adventures and Forza Horizons for $350. Itís not as good as Amazonís Black Friday and Cyber Monday deals, but itís probably the best itíll get before Christmas.

Slightly more expensive than the Walmart bundle, but an even better deal is the

still-available Best Buy Black Friday Xbox 360 bundle with four games

. It costs $250, which is $41 more than what Walmart is charging and itís not customizable. But there are four games, not one, are theyíre top-notch.

The Best Buy Xbox 360 bundle features Halo 4, Tomb Raider, Best Buy Arkham City and Darksiders 2. All are games meant for adult, to be sure.

From $209 to $350, there are a bunch of Xbox 360 deals to confuse parents this holiday season. It all depends on who youíre doing your online shopping for. Kids are going to want the Kinect, while adult gamers are going to be content with the four games Best Buy has to offer. Appealing to everyone is the Walmart Xbox 360 bundle. It just depends on who is on your holiday shopping list.