iPhone 5S On Sale News: Apple's iPhone 5S reaches a deep discount of $125 at Best Buy, which it first achieved on Black Friday before the price shot back up two days later.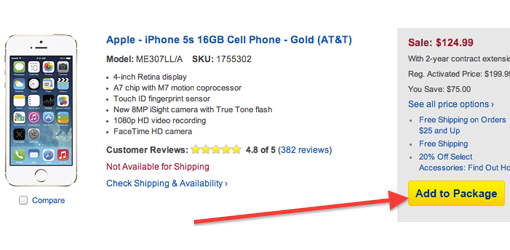 Best Buy is the cheapest place to buy a new iPhone 5S for $124.99 on a new two-year contract for AT&T, Verizon or Sprint.

This is a new deal for the electronics retailer, which had been selling the phone at a number of prices since Black Friday. That hallmark shopping period brought the smartphone's price down to $125 for the first time and was snapped up by buyers in droves. Predictably, the gold version of the iPhone 5S was the hardest to come by with AT&T leading the way among the carriers.



That price didn't last into Cyber Monday three days later. The Best Buy price inched up to $150, even on the Verizon and Sprint iPhone 5S models that were readily in stock. For the past week, it's been selling for the original MSRP of $200.

Saving $75 right now is a no-brainer, as buying into the Apple hardware can be pricey even with such a discount. Best Buy has the rival Samsung Galaxy S4 at an even cheaper price, just $50 with a two-year agreement.

However, iOS fans won't be able to find a better deal for the newest iPhone right now - we checked.

Instead of chancing it and buying the phone in stores, Best Buy offers interested iPhone 5S consumers to buy online and pick up in stores.