Xbox One In Stock News: Where can you find Xbox One in stock? Stores like Best Buy and GameStop have the console in stock and theyíre currently on sale.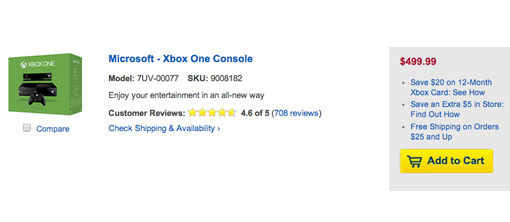 Itís hard to find, but Xbox One is in stock at Best Buy as of this Saturday and the retailer isnít gouging desperate customers. Itís on sale for its normal price of $499.99.

The standalone non bundle version of the Xbox One contains the system, a controller and the new Kinect sensor along with the game Kinect Sports Rivals Pre-Season. It can be downloaded to the console for free.

The problem hasnít so much been the Xbox One price, but availability. Microsoft sold 2 million Xbox One consoles, but most stores have been sold out of their inventory since launch day two weeks ago.



Walmart, for example is still sold out, randomly getting a few pallets of Xbox One in stock every now and again. Theyíre always gone in a flash.

Amazon has the Xbox One available

only through third-party resellers, who are charging $730 for the standalone console. Thatís a last-ditch effort price thatís best served for getting it right before Christmas.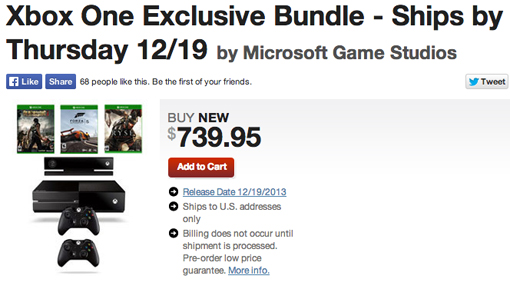 GameStop does have the Xbox One in stock
, but itís not on sale for its normal price. Instead, the video game retailer is forcing gamers to buy bundle filled with three Microsoft games and an extra controller, which amounts to $739.95.
The GameStop deal still better than the Amazon price, but itís in no way a major discount when you could be buying the system from Best Buy.