Just Dance 2014 News: The Nintendo Wii dance game now costs just $35, and other consoles versions of Just Dance 2014 are on sale at Amazon today.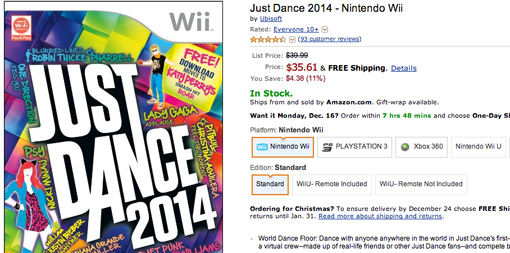 Ubisoft's Just Dance 2014 for Wii is on sale this Saturday for $35 at Amazon, a deal that should please parents who are looking for in stock copies of the dance game on the Nintendo console.

That's the cheapest that we have found the video game, with GameStop and Best Buy charging $39.99 and Walmart matching it to the penny at $35.61. Some states, however, don't require Amazon customers to pay sales tax upfront, making it the better of the two options.



The new Just Dance 2014 features songs from Katy Perry, Robin Thicke and One Direction, so it's full of teenage heartthrobs, making the Wii version a hit on Amazon's sales charts.

The PS3 version is actually cheaper at $28.99 on Amazon, while the Xbox 360 edition falls into the $30 territory. The newer consoles, PS4 and Xbox One version, bump the cost up to $50.

Ubisoft packed the Just Dance song list with pop artists from ABBA to will.i.am featuring Justin Bieber, which means it spans both family and console generations. No matter which system you buy it for, it'll be one of the more active games your family will play this holiday season.