Skylanders Swap Force On Sale: Where should you buy the Skylanders Swap Force Starter Pack and characters? Amazon and Best Buy have deals for the game and toys today.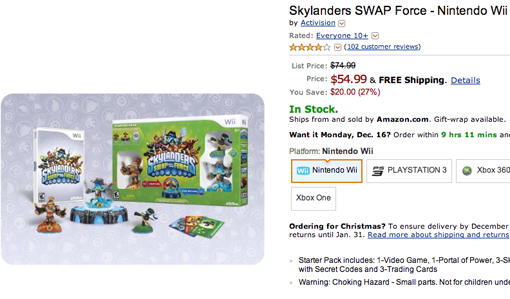 Skylanders Swap Force is on sale this Saturday for $54.99 for the Starter Pack game and characters at two stores, Amazon and Best Buy.

Today's video game deal applies to the all versions of the game, from the Wii and Wii U versions of Skylanders Swap Force to the Xbox 360 and Xbox One editions. This $54.99 is remarkably better than what GameStop is charging for it - the original price of $74.99.



Even Walmart isn't discounting Skylanders Swap Force as much, discounting the original MSRP to $59.96. That's almost $5 more that you could be spending on other Christmas gifts.

The Swap Force Skater Kit includes the Activision video game, the Portal of Power to place the toys upon and 3 Skylanders figures. There's also a poster, sticker sheet, "secret" codes and a trio of trading cards, according to the box details.

The best place to buy Swap Force is at Amazon just in case you want to avoid paying tax right away. However,

Best Buy has has the Xbox 360 at a reasonable price

. For some reason, Amazon is charging $70 for the Xbox 360 version's Starter Pack, even though it's in stock and all of the others are available for $54.99.

Good luck finding Skylanders Swap Force characters on sale as the holiday deals are attracting parents to this kids game that Activision can't make enough of right now.