iPhone 5S on Sale: Apple's iPhone 5S only costs $150 with this two-day deal, with the last minute Christmas sale is expiring at the end of the day.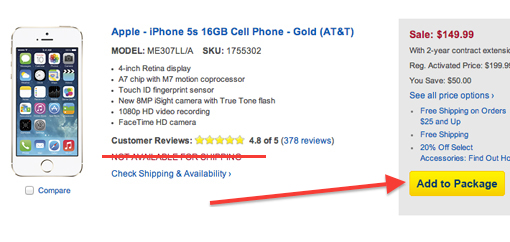 iPhone 5S is still on sale for $150 at Best Buy tonight, but the retailer's discount is said to be expiring at the stroke of midnight, if it's plans for a two-day deal are indeed correct.

The retailer has been spotlighted the new phone from Apple during its holiday deals throughout November and into December, with a Black Friday as the height of its sale: $125 with a two-year contract.



That deal was over and done with by the time Cyber Monday rolled around and shot back up to the normal MSRP of $199.99. Waiting a few days, however, has proven beneficial to in store and online shoppers, as the fluctuating price is now back down to $149.99 with a two-year contract.

This iPhone 5S sale applies to all models of the smartphone, from 16GB to 64GB and gold, silver space gray colors. Only AT&T, Verizon and Sprint are listed as carriers with the deal in place. Best Buy has shunned T-Mobile from the lineup of phone its sells at its store and through its website.

We haven't found a similar anywhere else, though Walmart is limiting sales to in-store, so it's a game of hit-and-miss as to the price and availability. Most of the iPhone 5S models being sold by Best Buy are available for online purchases, but in-store pickup. A few are in stock right now and can be shipped in a few days. Just in time for Christmas.