iPhone 5S News: Apple's iPhone 5S, including the gold, is part of Best Buy last-minute Christmas shopping deals, where the retailer is discounting the phone by $50.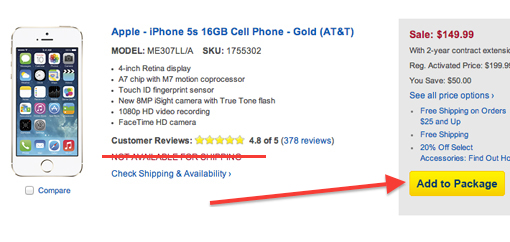 iPhone 5S is on sale at Best Buy once again, showing the discount price of $149.99 for the 16GB model, according to the retailer's website right now.

That's a $50 discount on the Apple smartphone, which usually costs $199.99 with required two-year contract. This applies to all iPhone 5S colors: gold, silver and Space Gray and three carriers: AT&T, Verizon and Sprint. The deal doesn't include the T-Mobile model because Best Buy doesn't sell it in the first place.



Even though the website says the the phone is not available for shipping through online purchases, it can be reserved online and picked up in stores. This is the suggested method; aimlessly wandering into a Best Buy in hopes of them having the phone in stock can be a futile effort this holiday season.

The iPhone 5S is available in stores and for ordering online and picking up in the store. The latter is suggested knowing that finding the phone in stock in a store is somewhat of a hit-and-miss game this holiday season.

This is the lowest price for an iPhone 5S that we could find, but it isn't the cheapest that Best Buy has been selling the phone for all season. During Black Friday, the electronics store had it in stock for $124.99, a full $75 off the original retail price. That deep discount has come and gone, though. Get this sale before the offer is over and done with tomorrow.