Where to buy iPhone 5S News: Apple's iPhone 5S for AT&T, Verizon and Sprint is in stock at Best Buy. Even the gold version is available to buy.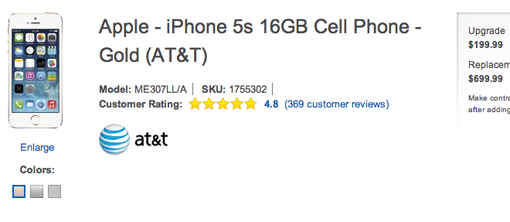 iPhone 5S is back on sale at Best Buy after the store offered a deal for the phone at $125 during Black Friday and Cyber Monday. This include the coveted gold iPhone 5S and for the top three US carriers, AT&T, Verizon and Sprint.



The iPhone 5S on AT&T proved to be the most popular, and is only available for in-store pickup. Best Buy recommends buying the mobile device online to ensure that it's available when you purchase it at one of its retail locations.

Most models of the iPhone 5S for Verizon and Sprint are still available to order online and ship to your front doorstep in 3 to 5 business days, according to the company's website.

There's just one catch. Since the Christmas online shopping promotion is over, Apple's new iPhone is back at its original $199. The price of the handset dropped sharply at various retailers over Black Friday weekend, with stores urging customers to come in and shop.

Even though it's not sporting that alluring $125 price, the fact that the iPhone 5S is in stock at Best Buy should be good enough for late-to-the-party holiday shoppers, who are running out of days before Christmas to buy the smartphone at all, nevermind for cheap.

We'll update Gaming Target news if more retailers start offering iPhone 5S discounts before the Christmas season is over.