Disney Infinity Starter Kit On Sale: Disney Infinity has become one of the most popular Cyber Monday gifts especially the Xbox 360 and Wii versions, where they are out of stock at stores.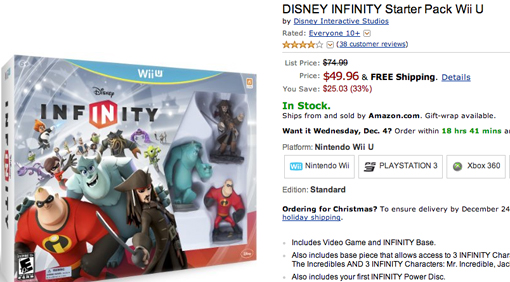 Facing down tough reviews, Disney Infinity characters and the essential Starter Kit remain a popular Christmas gifts during Cyber Monday.

In fact, the toys and starter pack are sold out in a few places, including Walmart, Amazon and GameStop. Luckily, it depends on which version you're going after and the price you are willing to pay.

Amazon has the Disney Infinity Starter Pack for as low as $49.96 for Wii U. That's the best price we've seen all of Cyber Monday for the console version of the video game. Only the Nintendo 3DS version has been cheaper earlier today, however, it's now the same price, too.

The online retailer is also selling the PS3 edition starter kit for $67.58 at the moment, but prices do change. Wii U, the only next-generation console to be compatible with Disney Infinity characters, is $74.99. Blimbing highest on the price list is the Xbox 360 version, which is being sold for varying rates from Amazon third-party retailers.



It's best to

get the PS3 version from Walmart

, which is selling it for $49.96 for Cyber Monday. Sadly, you won't find Disney Infinity in stock for Wii and Xbox 360 here, even though they had been priced with the same discount.

The only place to find the

Disney Infinity for Xbox 360 in stock

is Best Buy, which is selling the game and characters for the normal MSRP of $74.99.

It's almost like every other store has a different version in stock and at the best price in a battle of Amazon vs Best Buy vs Walmart.

Characters also also on sale

at Amazon for varying amounts. Most of the collectables are still in stock.