PS4 In Stock News: Finding PlayStation 4 in stock can be difficult, so forget about finding a Cyber Monday deal and jump at the first reasonable price you come across.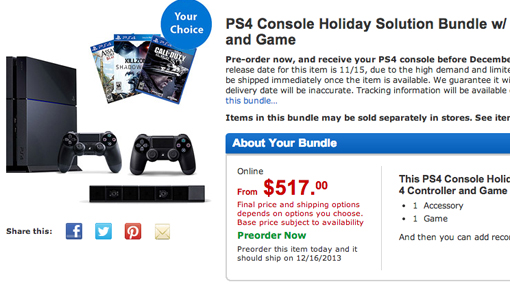 Update: Walmart has suspended its pre-Christmas pre-orders for PlayStation 4, but you should check these set of links to see if PS4 back is in stock.

Amazon | Walmart | Best Buy | GameStop

PS4 had record sales when it launched two weeks ago, and that just means that Sony's console is near impossible to find and won't be seeing any Cyber Monday deals in 2013. Getting your hands on one is a good enough sale, as it turns out.

The best price and availability for PS4 is at Walmart, which will have its PS4 Console Holiday Solution Bundle in stock and ready to ship out on December 16 for $517. That should be just in time for Christmas.



The catch is that you'll need to make the PS4 pre-order now, and it comes in bundle form. Thankfully, it's not outrageous, as this PS4 bundle comes with some much-needed starter items.

Walmart's PS4 console bundle forces online shoppers to buy an extra DualShock 4 controller or the PlayStation camera (a $60 value) plus one game from a choice of eight (a $60 value as well). There's CoD Ghosts, Killzone Shadow Fall, NBA Live 14 and Battlefield 4 among the video game choices.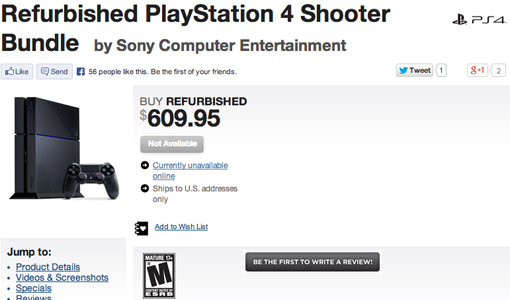 GameStop has gotten more extravagant, selling used PS4 consoles already for prices like $600.95 and $694.95 depending on the games bundled with the system.
Both Best Buy and Amazon are legitimately sold out of PlayStation 4. Of course, there are a bunch of third-party retailers on Amazon and eBay who would love to resell you Launch Day Bundles for exorbitant amounts.
With time running out and Cyber Monday throwing the online purchasing season into flux, Walmart seems to have the best PS4 deal out there for the remainder of 2013.
Gaming Target will keep this news story updated as more retailers get PS4 in stock and ease your holiday shopping worries.