Kindle Fire Cyber Monday sale: Amazon's hallmark Cyber Monday sale is down to one as the Kindle Fire HDX is in stock and the company's cheaper Kindle Fire HD becomes sold out.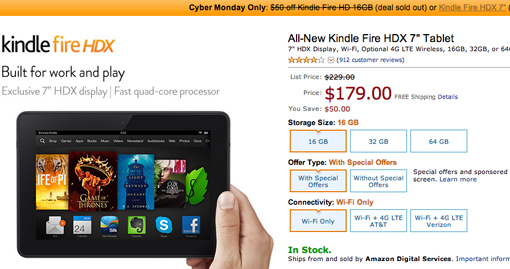 The Kindle Fire HD had a hot price of $119, so hot that it sold out just 12 hours after Amazon put the early Cyber Monday deal online for shoppers.

No matter, that's last generation hardware and the Kindle Fire HDX is a better tablet for $179. It's still available, but we'd imagine Amazon is running low on stock right now given the half day sell-through of the Fire HD.



Both Cyber Monday sales were for the 7-inch versions of the Android-forked tablets. We've yet to see the new Amazon Kindle Fire HDX 8.9 receive a similar discount today.

The sold out Kindle Fire HD only had its 16GB model available as part of the limited-time deal, while the $50 discount on the Fire HDX applies to the 16GB, 32Gb and 64GB version.

We'll keep you updated on whether or not the Kindle Fire HDX 7 remains in stock or if Amazon decides to unleash a discount for the still $379 Kindle Fire HDX 8.9.

Also see the

previous Kindle Fire HD Cyber Monday story

to get caught up.