Grand Tehft Auto 5 Deal: Cyber Monday and GTA 5 have crossed paths, giving gamers a $20 discount on the most successful sandbox game on Xbox 360 and PS3.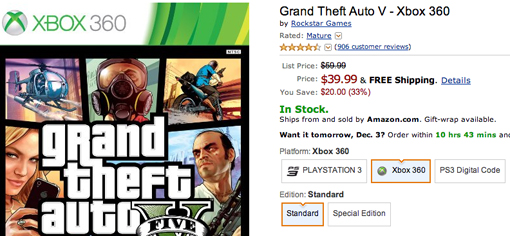 Grand Theft Auto 5 involves stealing and that's just what you're doing by purchasing this game on Cyber Monday from Amazon.

The online retailer is selling GTA 5 for $39.99 on Xbox 360 and PS3 a little more than two months after its release date. The greatest part about this is that some real suckers are still paying the original price for the Rockstar games produced video game.



Best Buy and GameStop both have Grand Theft Auto 5 for $59.99 still, while Walmart is giving Cyber Monday shoppers a measly $5 off with a 54.96 deal.

The Amazon sale applies to the Xbox 360 and PS3 versions of GTA 5, and it also makes $39.99 the price of the PS3 Digital Code, which allows you to instantly pay for the game and download it to Sony's hardware.

Check out more Cyber Monday deals besides Grand Theft Auto 5 as they spring up today.