Battlefield 4 Sale News: Amazon and GameStop are selling Battlefield 4 for $20 less than retailers like Walmart and Best Buy, making EA's Call of Duty rival affordable.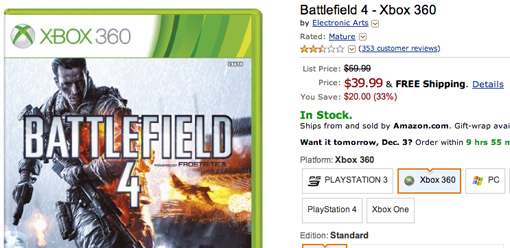 Because today is Cyber Monday, Battlefield 4 hit a new low price today. Amazon and GameStop are selling the first-person shooter for just $39.99 on Xbox 360 and PS3.

That's certainly a deal considering the game just launched for $59.99. However, BF4 is EA's military-based shooter and outstanding answer to Activision's Call of Duty, so they're in a bit of a price war going on.



Interestingly, Walmart and Best Buy are still carrying Battlefield 4 for the original $59.99 price on both of these systems. It looks like Cyber Monday doesn't apply to these particular products at their stores.

The same goes for the largely non discount for the next-generation console versions of the game. Amazon is selling

Battlefield 4 on PS4 for $55.79

and the

Xbox One version is $59.99

. Hardly a deal and no deal there, respectively.

Finally, the

PC version of Battlefield 4

is also experiencing a Cyber Monday discount, but it's only in stock at GameStop, not Amazon. It's also $39.99, matching the console discount prices.