Cyber Monday Assassinís Creed 4 Deal: Amazon strikes again with a Cyber Monday 2013 video game deal, this time for Ubisoftís Assassinís Creed 4: Black Flag collectorís edition bundle.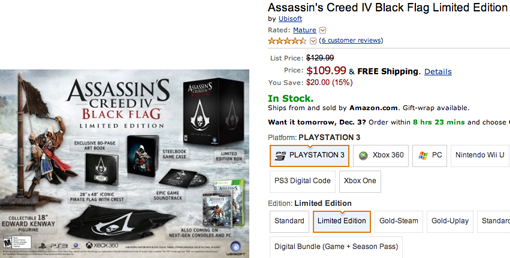 Assassinís Creed 4 has one of the best storylines in video games today, and now the collectorís edition of the new game has a price to match on Cyber Monday.

The Assassin's Creed 4: Black Flag Limited Edition is $20 off at Amazon for both PS3 and Xbox 360. Itís $109.99, when the price is usually $129.99. Sadly for PC shoppers, this online deal doesnít extend to the Windows version of AC4.



Assassin's Creed 4 Limited Edition includes an 18-inch Edward Kenway statue, an embroidered pirate flag with a crest, an 80-page art book, and the game in a steelbook game case along with the soundtrack,

The recently launched Xbox One and PS4 versions of the game donít have a collectorís edition at a discount, and the same is true for the Nintendo Wii U copy of the game on Amazon. That means this Cyber Monday deal is exclusive to last-gen consoles.

The sale is also exclusive to Amazon, it seems. Outside of the online retailer, Assassin's Creed 4 Limited Edition costs $129.99. This is true in the cases of GameStop, Best Buy and Walmart. None are carrying this discount today.

Enjoy the Edward Kenway storyline in full, and if you have the option, chose the PS3 version. It has 60 minutes of additional gameplay that Ubisoft slipped into the Sony console editions.