iPad Cyber Monday 2013 Deals: Walmart's Cyber Monday sale on tablets includes Apple's iPad Air and iPad mini, but finding them in stock is a different story.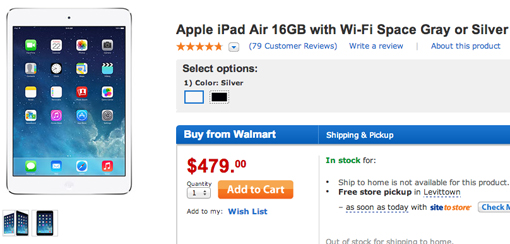 It's tough to find the iPad Air in stock on a Cyber Monday let alone on a discount, but Walmart has various models of the Apple tablet in stock for in-store pickup.

The iPad Air is $479, a $20 discount on the 16GB WiFi models in space gray or silver. This Cyber Monday deal beats paying the full price of $500, but it's only available for store pickup. The tablet is sold out, so online shipping is out of the question at the moment.

Instead, shoppers should order the iPad Air online and select free in-store pick since it's sold out online. This guarantees that it'll be available at the store when you arrive. To complete the order, select the silver or space gray option first, then select the closest Walmart store to your location.


iPad mini Cyber Monday sale for $279 at Walmart
Walmart also has the
iPad mini on sale for $279
, giving tablet shoppers the lowest price for an iPad and it throws in a free 8-in-1 bluetooth speaker kit. This last-generation 7.9-inch version of Apple's hardware now comes with space gray and silver like the iPad Air.
Luckily, the iPad mini is in stock for both online and in-store pickup right now. The
iPad mini 2 with a Retina display
has been constrained in supply, so don't expect to be able to buy that version of Apple's tablet to be on sale on Cyber Monday at Walmart. You might as well shop for the new iPad mini at the Apple Store today where it's the same price.
Walmart is still selling iPad 4 and iPad 2 at a discount
If you want a deal on a Apple tablet with a Retina display, but at a cheaper price, consider the
iPad 4 32GB for $449 - a savings of $50
. It's a little more bulky than the slim iPad Air, but it has the same high-resolution display. Walmart has a special Cyber Monday deal for the high storage capacity 32GB model of this last-generation tablet that throws in the same 8-in-1 accessory Bluetooth speaker kit.
Finally, the
iPad 2 is hanging in there at $389
, a $10 discount. The 16GB model is the cheapest full-sized iPad we could find in online stores for Cyber Monday.
We will update this story as more iPad deals arrive today.