Just Dance Cyber Monday Sale: Cyber Monday sales on the new Just Dance game puts the price at $24.99 on Wii, PS3 and Xbox 360.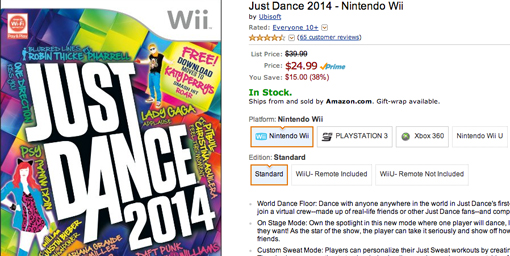 The Just Dance 2014 prices for Cyber Monday never stop moving, as Amazon has dropped the video game down to $24.99 for Wii, Xbox 360 and PS3.

The Wii version of Just Dance 2014 is by far the most popular, and it's one of the online retailer's top games being sold in advance of Christmas. Today's fresh price is surely going to help that trend continue for it's maker, Ubisoft.



Among the featured artists in the Just Dance 2014 song list are Lady Gaga, Pitbull, Robin Thicke, Psy and will.i.am. It pretty much has everything from One Direction with the song "Kiss You," all the way back to Gloria Gaynor singing "I Will Survive."

In all versions of the game, Katy Perry's new song "Roar" is available as a free download so that you can perform the dance moves to it.

Just Dance 2014 is also available for PS4, Xbox One and Wii U, but it's a tad pricier, starting at $49.96. No one ever said the next-generation consoles were going to be cheap to own.

This kid-friendly game is also $24.99 at Best Buy, but Walmart has it for the more expensive price of $34.96. It's three-penny discount doesn't help in this case. Even more pricey is GameStop, which is selling Just Dance 2014 for $39.99.