Cyber Monday PS3 Bundle Deal: Walmart has a Cyber Monday deal for a PS3 console with a 250GB hard drive and Burnout Paradise and Need for Speed: Most Wanted today.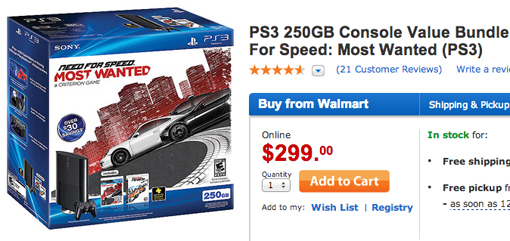 Walmart is out to save online shoppers $30 this Cyber Monday by including two games in its PS3 250GB bundle, and both are titles racing video game players might want.

The PS3 250GB Console Bundle with Burnout Paradise and Need for Speed: Most Wanted packs in two of EA's well-reviewed racing game franchises into one box. All of this can be had on Cyber Monday for $299.



Walmart points out that this particular PS3 bundle comes with a 30-day free membership to PlayStation Plus, which has free games itself while you're still a member. This is great for trying out select Sony PS3 games in full for a month at a time.

Interestingly, no other retailers we checked with carry the Need for Speed: Most Wanted and Burnout Paradise bundle at the moment, so Walmart is the one and only option.

While some of Walmart's other PS3 and Xbox 360 console bundles are sold out online, the retail giant has this 250GB slim model in stock for both online shopping and in-store pick-up. Reserving ahead of time is a safer choice since it's Cyber Monday and the "while supplies last" rule is in effect.