Walmart Cyber Monday Xbox 360 Sale: Cyber Monday is in full swing at Walmart thanks to a video game deal for the Xbox 360 4GB console and two of last year's hottest titles.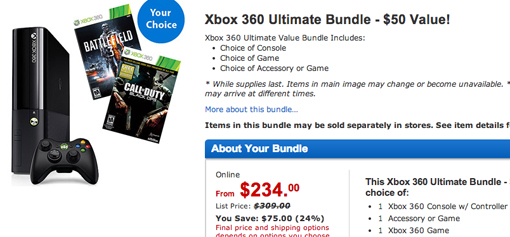 There's a Cyber Monday deal at Walmart for an Xbox 360 console bundle with Call of Duty: Black Ops 2 and Battlefield 3 or other games included.

This Xbox 360 Ultimate Bundle at Walmart is a $50 savings at just $234 while supplies last. The good news is that it's still in stock and Cyber Monday just started today.



Even better is the fact that this bundle lets you swap out the flagship games for a number of alternatives. If you want Halo 4 or Just Dance 2014, for example, you can change the lineup or choose an accessory in its place.

Walmart is also giving Cyber Monday online shoppers the ability to upgrade the Xbox 360 4GB console so that it includes Kinect or a 250GB hard drive. Both of these options are $70 more and has two free games. Kinect and the Xbox 360 250GB bundle combined is $170 more, but it comes with a third game.

The base price of $234 is certainly better than the usual $309 MSRP, discounting the console and free games by 24%. Saving $75 at Walmart is a good start to Cyber Monday sales.

Read about more of today's deals by clicking on the column of other stories to your right.