Skylanders Swap Force For Sale: Cyber Monday is more like Skylanders Swap Force Monday, as the toys and starter kit for the video game have a deal at Amazon and Best Buy.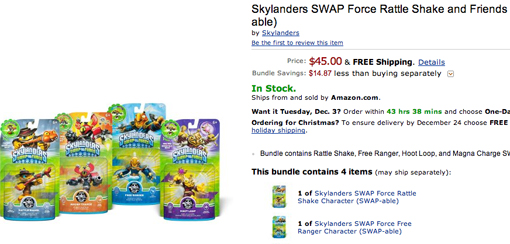 Skylanders Swap Force characters are for sale at Amazon and Walmart, and so is the game-essential Starter Pack thanks to a couple of timely Cyber Monday deals.

There is a discounted Skylanders Swap Force Rattle Shake and Friends character bundle for $45 over at Amazon. It includes four toys: Rattle Shake, Free Ranger, Hoot Loop and Magna Charge characters.

Normally, these swappable toys are $14.99 each on Amazon, so that's a $10 savings right there thanks to Cyber Monday. All of these deals apply to the Xbox 360, PS3, Wii, as well as newer consoles the Wii U, PS4 and Xbox One.

This kid-friendly Activision series has its own Swap Force starter kit for $49.99, giving parents a break from the $74 that Walmart is currently charging online shoppers.


But Walmart Skylanders exclusive character sales
Even though Walmart's starter kit is more expensive right now, it may see a price drop on Cyber Monday. There's still reason to visit the retailer's website, however.
Walmart-exclusive Skylanders The Swap Force Magic Triple Pack
bundle is just $24.96. It comes with three toys: Star Strike, Mega Ram Spyro and Super Gulp Pop Fizz. These characters can't be found anywhere else in a bundle, and it's going to make a kid of Christmas very happy opening up in December.
Walmart also has good prices on individual Skylanders characters. On their own, they retail for $14.96, a few pennies off the normal MSRP. That adds up when trying to buy all of the Swap Force toys for your child.
Toys from the previous game are also on a Cyber Monday deal. Bundles with two Skylanders Giants characters are $22, which is a much easier $11 each.