Call of Duty Ghosts Cyber Monday Sale: Still looking for Black Friday deals or upcoming Cyber Monday for CoD Ghosts Prestige Edition? Amazon has the lowest price.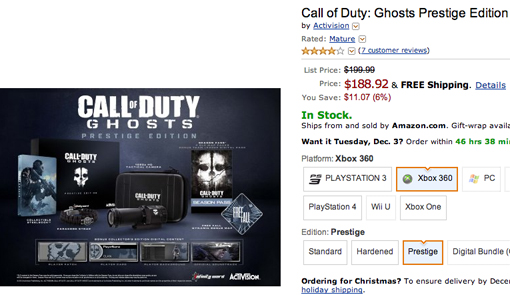 Amazon is selling Call of Duty: Ghosts Prestige Edition during Black Friday and Cyber Monday starting at $169.99, which is $30 dollars off the MSRP.

Normally, this version of the video game that includes a real 1080p HD Tactical Camera and CoD Ghosts Season Pass retails for $199. In fact, that's the price at GameStop, Walmart and Best Buy right now.

Also, once the Call of Duty: Ghosts Prestige Edition is gone, it's gone and the prices skyrocket on eBay. That is likely to happen as Cyber Monday comes to a close next week.


Specifically, the Xbox 360 version lands at that $169.99 discounted price, and PS3 edition just dropped from $192.98 to 169.99 to match it. Amazon also has the PS4 and Xbox One versions of Prestige, but considering those systems just released, there's no Cyber Monday discount to speak of. Expect to pay $199 for this ultimate edition of CoD: Ghosts.

In addition to the aforementioned 1080p wearable camera and DLC map pack pass, this Call of Duty collector's edition comes with a Paracord Strap, Collectible SteelBook for the game disc, Player Patch, Official Ghosts Soundtrack, Player Background, and Player Card.

It's more expensive than the Hardened Edition at $112 and Standard Edition at $44.99. But those don't come with the HD Tactical Camera that makes the Prestige Edition so desirable.

Also, check out of

Call of Duty Ghosts review

for more on the game's quality.