GTA 5 Cyber Monday Deal: GTA V is still hot, so it's almost at full price, with Amazon discounting the video game a little more than Walmart, Best Buy and GameStop.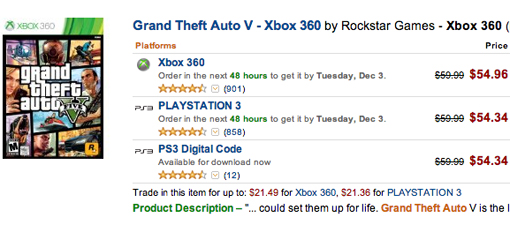 You won't find too many Grand Theft Auto 5 deals during Black Friday and Cyber Monday, but Amazon is helping online shoppers pinch pennies by selling the game the cheapest.

It's retailing Grand Theft Auto for $54.34 on Amazon. That's oddly, for the PS3 version, as the Xbox 360 edition is a a few cents more at $54.96. The prices can fluctuate, of course.



We're actually seeing that same $54.96 price at Walmart, as the retail giant likes to set its prices three pennies cheaper than everyone else. Best Buy and GameStop have Grand Theft Auto V for the usual price of $59.99 this Cyber Monday.

Of course, you can easily get

GTA V used at GameStop for $54.99

. But it's still cheaper, not to mention new at Amazon today while supplies last.

Read more about Black Friday and Cyber Monday deal updates in the right-hand column of Gaming Target. They'll be updated throughout the weekend.