Xbox 360 Bundle Deal News: Cyber Monday strikes early, as an Amazon lightning deal has a discounted Xbox 360 E 250GB Kinect Holiday Value Bundle.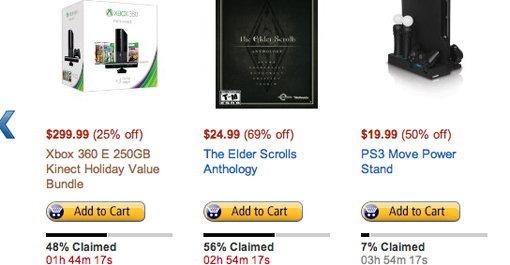 There an Xbox 360 250GB Kinect bundle on sale at Amazon right now that comes with three free video games for $300.

This Amazon lightning deal is available for a limited time only, netting online shoppers Kinect Adventures, Kinect Sports: Season 2 and Forza Horizon. Obviously, it comes with the an Xbox 360 E 250GB console and a Kinect for the limited-time $300 price.



The bundle also comes with a wireless controller and one month of Xbox Live Gold. That may or may not matter in this kid-friendly Xbox 360 bundle.

Normally, Amazon charges $349 for it, giving gamers a $50 break. That's on top of the discounted list price, which is said to be $399.99.

Best Buy and Walmart are both charging $349 for the same bundle, so act fast before it reverts back to its non Cyber Week discount.