Disney Infinity News: Amazon has a deal for the Disney Infinity video game characters starter pack for Wii U and other consoles in time for Cyber Monday.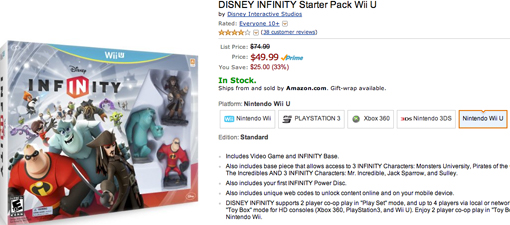 Disney Infinfinity has a Black Friday through Cyber Monday deal going on right now at Amazon, making the video game and classic Disney character combe a hot sale.

The Disney Infinity Starter Pack is $49.99 in stock for Wii U, regular Wii, PS3 and Nintendo 3DS. Currently, the Xbox 360 version is being sold by a third-party retailer, so it's out of this price range.



In addition to the kid-friendly video game, this bundle includes 3 Disney Infinity characters as base pieces: Sulley from Monsters Inc. and Monsters University, Jack Sparrow from Pirates of the Caribbean, and Mr. Incredible from the Incredibles, obviously.

The Starter Pack also includes one Power Disc, web codes to unlock content online and through a phone.

The great part about Disney Infinity is that it features two-player co-op mode and a four-player Toy Box mode on Xbox 360, PS3 and Wii U. Toy Box mode is also available on Nintendo Wii. With multiplayer, this child-marketed video game won't be fought over as much.

This deal might not last forever, as its normal launch price was $74.99, and Best Buy is still selling it for that original price, while Walmart has reduced the online offering to $64.96. So much for Black Friday and Cyber Monday deals there.