Bond Blu-ray Collection News: Amazon is giving Bond Blu-ray collection is getting Deal its Deal of the Day treatment in between Black Friday and Cyber Monday and it is only $99.99.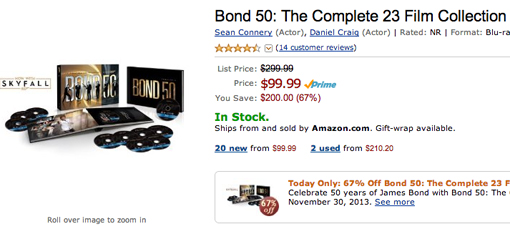 Amazon has all of the Bond films in one Blu-ray collection listing a total of 23 movies including the latest James Bond outing, Skyfall.

The Bond 50: The Complete Film Collection on Blu-ray for $99.99 is today's Amazon Deal of the Day, when it normally costs $300, according to the online retailer. That's not actually the case, of course, as it can be found on sale at other outlets for under $300.



Best Buy, for example, is selling the Bond Blu-ray collection for $139.99. Walmart is a little more expensive, but still under $300. It's price is $269.99 for the widescreen versions of the movie. So the Amazon deal is better than what is out there on Black Friday and Cyber Monday.

The 23 Bond movies from Eon Productions include Dr. No, From Russia with Love, Goldfinger, Thunderball and You Only Live Twice from the Sean Connery era as well as every other Bond actor to follow him: George Lazenby, Roger Moore, Timothy Dalton, Pierce Brosnan and of course Daniel Craig.

There's also a bonus disc as full of extras and featurettes. The non EON Production film Never Say Never Again is not included in this Bond Blu-ray collection.

As with any Amazon deal, it's available until midnight or until online shopping scoop enough of them up that it's sold out.