iPhone 5S Cyber Monday News: Best Buy Black Friday and Cyber Monday deals mean cheap Apple iPhone 5S phones, with the lowest price being $124.99 even for the gold.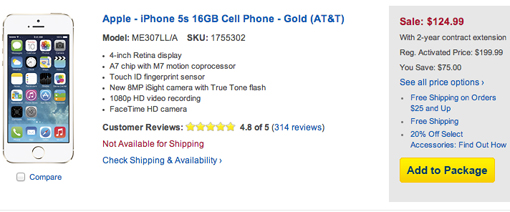 Update: The Best Buy deal appears to be over, but it could come back for Cyber Monday. It's definitely the hardest deal to find, so bookmark this page and check back tomorrow.


Apple's iPhone 5S is the best smartphone you can buy this Christmas, and retailer Best Buy has a deal in between Black Friday and Cyber Monday for the phone.

The iPhone 5S is just $124.99 at Best Buy today with a two-year contract, when it normally costs $199.99 with the same two-year commitment. The store is selling the smartphone for AT&T, Verizon and Sprint - sorry, T-Mobile users. Best Buy only has unlocked iPhone 5S handsets for you, and they're so expensive that you might as well shop at the always-pricey Apple Store for a better deal.



The $124.99 sale price even applies to the highly coveted gold iPhone 5S, which was hard to find two months ago when the Apple phone first launched. Now it's in stock and available to purchase through the Best Buy website or at the store itself. Best Buy is also offering in-store pickup, where you reserve it online and pick it up at the store without hassle.

This pre Cyber Monday deal is the best we could find, as other retailers like Walmart and Target are selling the Apple phone for $179.99. Not even the Apple Store provided a cheapskate gift card during its Black Friday sales for the iPhone 5S. That deal only applied to iPads, Macs and iPods and it was bested by other retailers with better gift cards bundles and lower prices.

Yes, Best Buy seems to be the place to get the iPhone 5S for Cyber Monday, but the store did mention that supplies are limited. That makes ordering online or in-stock pick-up a nice option, just to make sure the gold iPhone 5S in stock to put under your Christmas tree.